This Zoosk review is not the first one. This dating website is one of the most popular dating sites that is known all over the world. With millions of users, this dating site doesn't need much introduction. However, for those singles who haven't found a good place to chat with interesting people, make friends and fall in love, this review may become useful. There have been dozens Zoosk reviews written but we would like to share our experience and impressions since we do like this dating platform.
In this Zoosk review of the website, we will talk about the quality of the site, tell you how it works, what features it offers, how safe it is and how expensive it is. We hope that you will enjoy our Zoosk dating site review and find it useful. We hope that we will help you to make the right decision regarding this site. It worth your attention.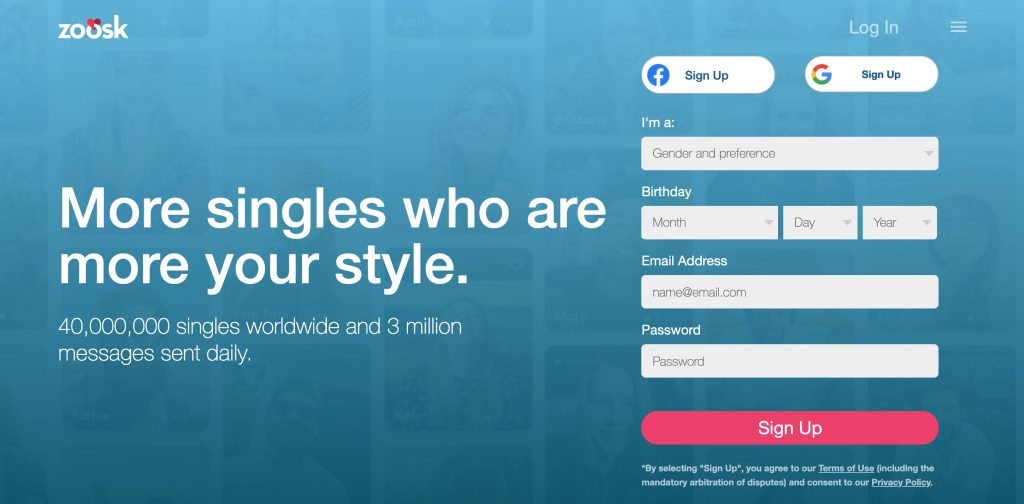 Pros /Cons
Pros
Large database of singles
Perfect for straight, bisexual, lesbians and gays
Free registration
Behavioral matchmaking
Available in 25 languages
Cons
Fake and dead profiles found
A chat feature is paid
What Is Zoosk.com?
We would like to start this review by answering the most popular question: what is Zoosk.com? It is one of the easily recognized dating sites on the Internet. It is known in 80 countries and available in 25 languages which automatically makes it popular. The site was found back in 2007 in California, United States. The website has quickly become popular since it used a behavioral matchmaking system to pair the most compatible singles. The biggest advantage of using the website is finding friends and dates from different parts of the world. As we have already mentioned earlier in the review, the website is popular in 80 countries, this is why your chances to meet a compatible partner are high with this dating platform.
By doing this Zoosk dating site review, we found that a platform is a perfect place for singles who are shy to make contact in real life. If you feel that dating online suits you more because you feel shy when meeting strangers or you would like to find a date abroad, then the platform is a good pick.
The truth about Zoosk is that is suits not only straight singles but gays and lesbians. From our review, you can learn that this is a dating site for open-mind people who see no borders when it comes to friendship and love. Most people here are between 25 and 34 years old. This is a great place to build a romantic relationship and look for potential marriage partners.
Just like other Zoosk dating site reviews say, we need to tell you that the site has an app which is easy in use. The app is available for Android and iOS mobile devices. So if you prefer using a dating site on the go and find the mobile version handier, you can download the app for free.
Zoosk.com at a Glance
Best for: Casual dates, friendship, serious relationship and marriage
Number of members: millions worldwide
Recommend age: 25-34
Favorite feature: Behavioral matchmaking, carousel
How Does Zoosk.com Work?
The first thing that we noticed about Zoosk is that it has a perfect design. It's modern, stylish and makes navigation around the site very easy. For those who like things simple and clear, Zoosk is a perfect place. So how does Zoosk work? It works very simply. It allows you to register using your social media accounts. This was you won't have to fill many fields with your personal information. The platform will take it from your social media accounts and integrate it here.
Starting a profile, meeting people, and communicating with them here is very easy. Earlier in this review on the Zoosk dating site, we mentioned that the site is available in 25 languages. It proves how multicultural this dating site is. If you are interested in making friends from abroad or have always been wanting to date a girl/boy of another ethnicity, this website is for you.
Is Zoosk any good? Yes! The way it matches people really impresses. When you start using the website, you will be asked 5 questions. These are the questions to understand your preferences and help you find singles who would potentially become your soulmates. It's recommended to give honest and precise answers to get the best results.
Search
While doing this review, we noticed quite a lot of profiles that are not active. Also, we have seen some fake profiles. However, it shouldn't scare you since this platform has a really huge number of singles so you will certainly find real singles here.
Zoosk free search allows finding singles who are the most compatible with you. As we have already mentioned in this review, the website uses behavioral matchmaking feature which will help you to find the most compatible girlfriends/boyfriends for you. The system studies your profile, interests, habits, and the type of relationship that you are looking for and then offers you to review profiles of ladies/gentlemen who match you almost perfectly.
If you are not willing to wait for suggested matches, review profiles of people who you like manually. Use search features and filters to find singles who match your requirements. The number of profiles that you can review is not limited. Review random profiles or provide your criteria to find profiles of women or men who you have similar views and desires.
Registration
It's also easy to become a member of the service. To create an account, you won't be charged. You can create a profile using your email address or your Facebook account. If you choose to signup via your Facebook account, some of your information that is available on Facebook will be taken and integrated into your account on the platform. This was, you will save time.
When signing up, you can skip the photo upload process, however, you should add your photo eventually since it will bring more people to your profile.
Profile Quality
Users' profiles are informative enough. By reviewing singles' profiles, you can learn about their location, age, marital status, whether they have kids, their religion, ethnicity, sexual preferences, type of relationship they are looking for, level of education, professional, hobbies, and habits. Also, you will be able to review singles' photos.
Safety & Security
Most members of the website have their profiles validated. It's recommended to validate your profile if you want others to think of you as a real and trustworthy person. Everyone has to pass a verification process to become a member of the site. However, as we have mentioned earlier in this review, we saw some fake profiles. We bet that such a big and popular dating site as the company takes members' safety seriously and restricts people with wrong intentions access to the site.
Is Zoosk safe? Notice that the site is legit and not scam. However, if you receive a message with an inappropriate context, you can report an absolute. Also, you can block a member who disturbs you.
Help & Support
Just like other Zoosk reviews suggested, it's better to send an email to customer support representatives to report abuse, ask for help and advice.
Pricing
The only free features here are creating a profile, reviewing profiles of other Zoosk users, sending hearts or smiles. All other features are paid here. To be able to send a message to someone who you like, you need to become a premium member. Is Zoosk worth it? See the prices below:
1 month – $29.95
3 months – $59.85
6 months – $89.98
Is Zoosk worth paying for? Yes! Moreover, we believe that Zoosk still remains popular dating sites that you can possibly find on the Internet. From our review, you could have learned that it's a convenient, pretty safe, and affordable dating platform that has a lot of pros. The company guarantees a high member activity that is perfect for you if you are looking for someone to build a romantic relationship through the site.
We hope that after reading our review and other Zoosk dating reviews, you will be able to make the right decision. Zoosk is a worthy dating community where you have high chances to find your love. Is Zoosk a good dating site? Only you can decide after trying it out.
Q&A
Is Zoosk.com safe?
Zoosk requires newcomers to verify their profiles. Most profiles at the site are validated. The company takes your safety seriously and constantly improves safety measures.
Is Zoosk.com a real dating site?
Yes. It was found back in 2007 in CA, US.
Is Zoosk.com worth it?
We believe that Zoosk is a worthy dating platform. It suits singles of different ages, sexual preferences, and relationship goals.
How to use Zoosk.com?
Signup for free using your email address or Facebook account. Add information about yourself upload your photo. Become a premium member of the site and get access to all features for the best experience.
Is Zoosk.com free?
Partially. You can register, add your photo, review profiles of singles, send virtual gifts for free. All other features are paid.
Can I use Zoosk.com anonymously?
Anyone can purchase "go invisible" coins and browse through singles' profiles without them knowing that you reviewed their profiles.
How can I delete my Zoosk.com profile?
Open your account settings and find the option to deactivate your account.