FitnessSingles Review Review – The Leading Dating Site for Physical Activity Enthusiasts
Nowadays, more and more people are starting to follow a healthy lifestyle. People eat wholesome food, go for sports. It is for them that special niche dating sites work, where ladies and men are looking not only for love but also partners for team fitness, jogging, cycling, etc. One of the coolest sites in this area is FitnessSingles. If health is your top priority and you want to know more information and truth about FitnessSingles, then keep reading this review. Here, you will learn all the truth about FitnessSingles.
Short Review
What is FitnessSingles.com? Although FitnessSingles bills itself as a dating service, it's not just a place for romance. Others join the sports and fitness community to find new workout friends or workout partners who share their interests. If you're seeking love, a fitness date is more original than a movie and more fun than a cup of coffee, not to mention the built-in entertainment and natural communication opportunities that accompany it.
It's free to join the site and create a profile. You will find basic information requested on any online dating service, such as age preferences, physical characteristics, and lifestyle. In addition to these basic details, you will be asked to talk about your physical activity. The options are vast, including casual activities like baseball, dance, and strength training, as well as more unusual hobbies like adventure racing and trapeze. You will then be asked to indicate your level of proficiency in each of them.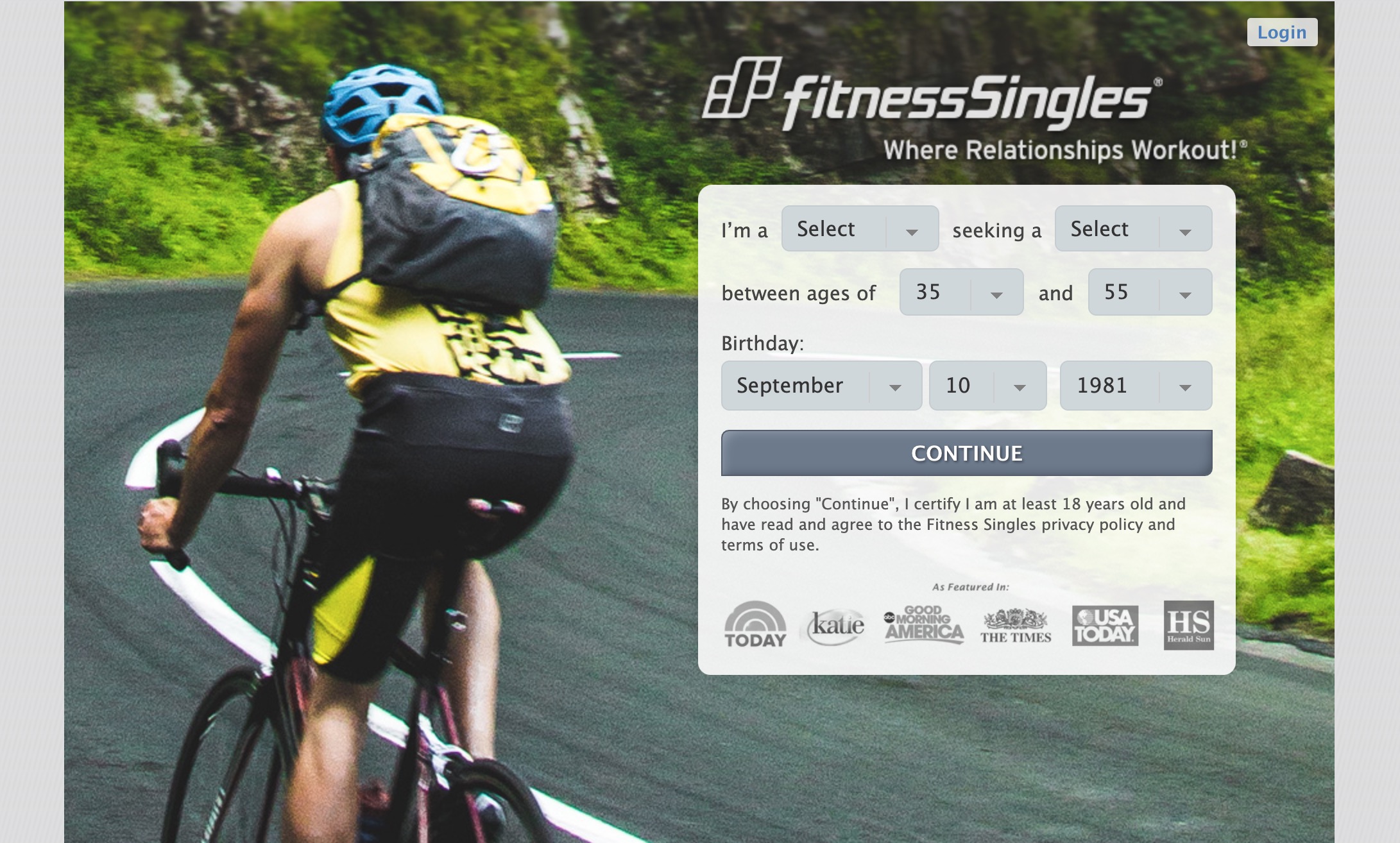 Pros /Cons
In this FitnessSingles.com review, it's worth noting that, like any online resource, it has its pros and cons. This application is used by thousands of singles all over the world at the same time. Some people like it, others consider it intrusive and frivolous.
Pros:
The convenience of use;
State-of-the-art matchmaking technology;
Simple signup and large user audience covering different countries of the world;
The ability to find interesting acquaintances by geotagging;
Free messaging features available.
Cons:
Due to a large number of users, the application freezes at times;
Limited options without purchasing additional services.
Pricing Plan
The pricing plan has become known from many FitnessSingles reviews, here are the prices:
1 month for $ 39.99 per month;
3 months for $ 24.99 per month (Save 38% – $ 74.97 total);
6 months for $ 15.99 per month (Save 63% – $ 95.94 total);
12 months for $ 13.99 per month (Save 67% – $ 167.88 total).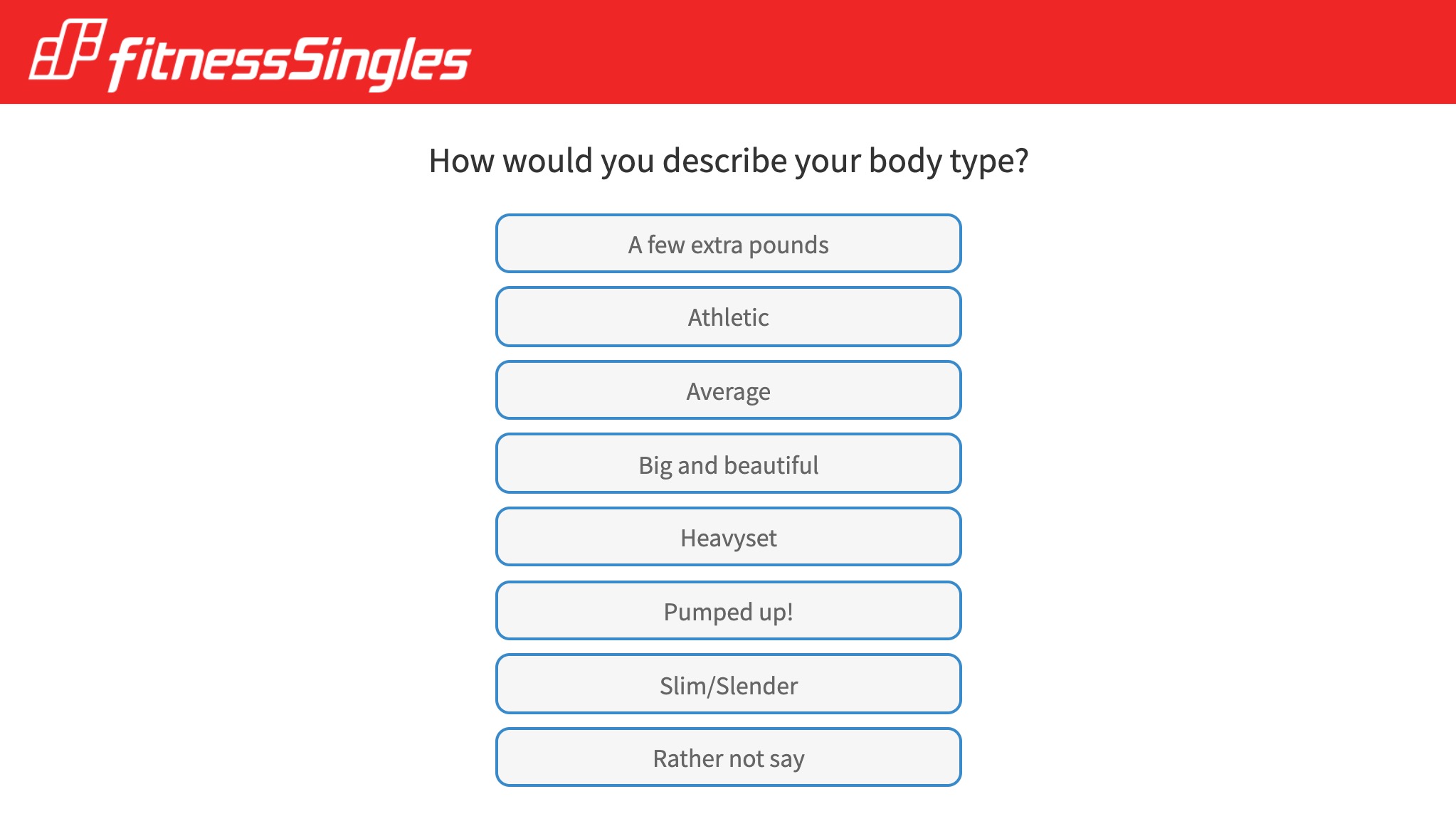 Registration Process
You can register here absolutely free of charge, as well as download the mobile version of the application to your smartphone. In addition to your Facebook account, you need to provide your phone number and select a country. If you have saved your Facebook password in your browser, you can register automatically.
A registration confirmation code will be sent to your mobile phone. Enter it in the required field and start filling out your account. You can also register in the "traditional" way by entering your email address and password. By linking your account to Facebook and using a phone number, the site guarantees the absence of fake users and bots.
It is also important to note in this FitnessSingles review of the website that every user of the platform at any time can go to Facebook to view the profile of the user of interest and learn more about him.
Searching Features
FitnessSingles free search is based on special search algorithms that select candidates for communication based on the compatibility of their age and geographic location. Since the application is in close contact with Facebook, information about you is loaded into it from the profile on Facebook. It's also worth mentioning in this FitnessSingles review that when registering, the system asks you only for your age, location, name. According to user reviews, the site has more profiles for men than for women. Unequal ratios result in women being able to choose from more offers than men.
Free vs Paid Version
Free site services are limited. To use all of its services, it is advisable to pay for a premium account. As well as on other dating resources, there are a lot of those who have registered and are curious and do not plan to seek communication. It is worth noting in this review on the FitnessSingles dating site that there are those who are seeking a one-off romantic relationship or are just flirting. As a rule, users who have upgraded their accounts to premium are more serious about seeking partners for sports, as well as seeking love.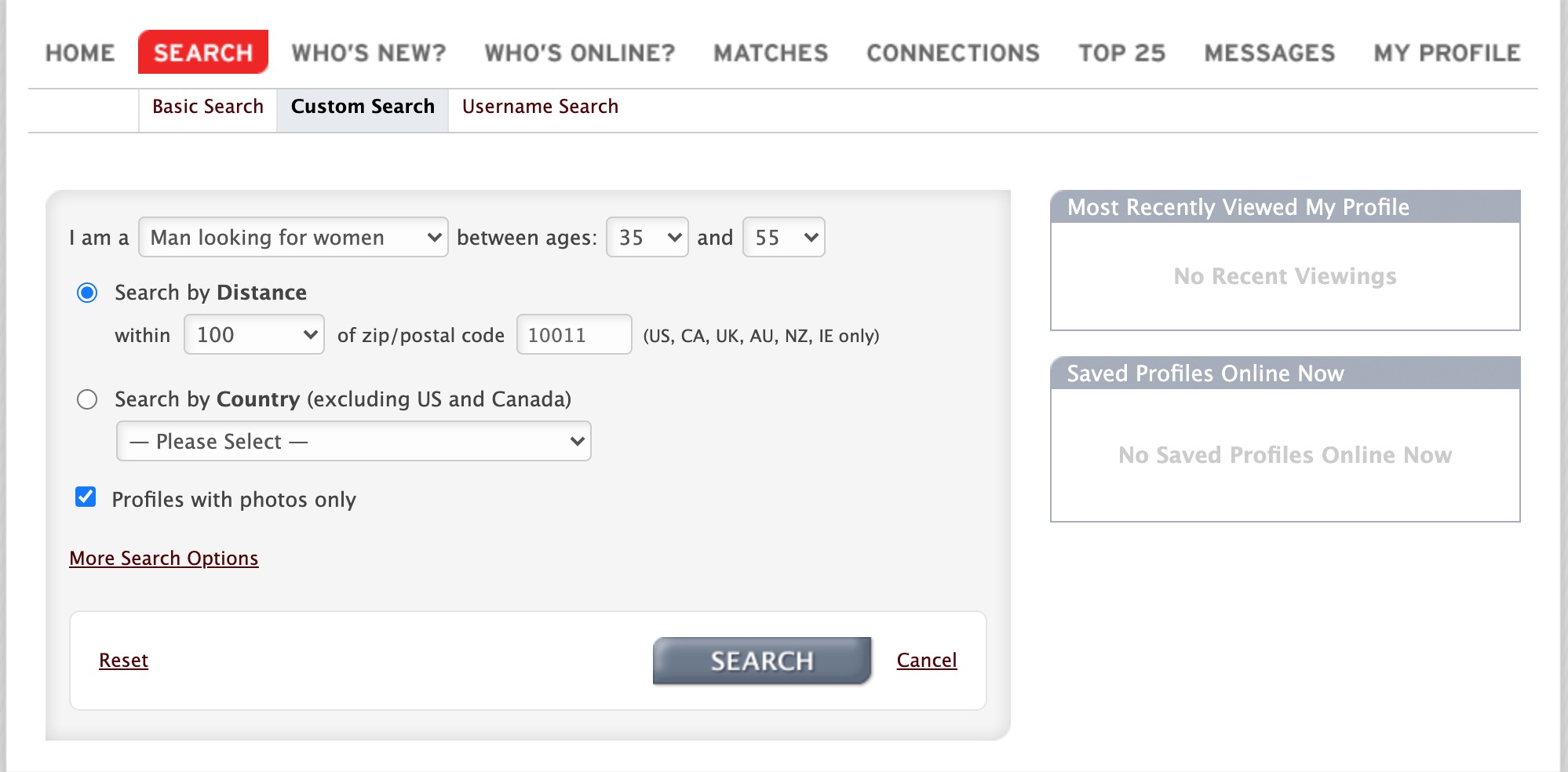 Profile Quality
The quality of the profiles is excellent because they are synchronized with Facebook data. Therefore, all actions on the portal will be displayed on the page of the social network. Information about you is also taken from there: name, city, gender, age, photos. Thanks to this, all users on the site are real people, so when meeting with hot fitness girlfriends, you can be sure that this is not a fake.
Mobile Application
The FitnessSingles mobile app is a popular online dating app. It allows you to correspond in anonymous chats, seek users nearby. A paid subscription is required to use all functions. Important pluses: you can control the visibility of the profile, there is no advertising, the functionality for filtering profiles and interacting with other users is maximum. For example, you can give other users not only gifts but also service features such as "Raise Profile" and "Premium".
Among the shortcomings of the application, we can note the reduced level of security on Android (average, high on iOS) and the lack of updates for more than three months at the time of publication. Nevertheless, the application demonstrates correct and stable operation.
Safety & Security
Is FitnessSingles a good dating site? Undoubtedly, this online resource is legit and safe. Thanks to the use of the latest technologies for encrypting the personal data of users and the absence of fakes and fraudsters, the percentage of hacks and thefts of personal data on the site tends to zero. It is important to note this in this FitnessSingles dating website review.
Help & Support
This dating platform for those looking for love has an around-the-clock support service that provides qualified assistance to all customers in the shortest possible time. You can contact the support service by writing a letter to the e-mail of the site or by calling the hotline. After processing the request, a company representative will contact you and help solve your problem.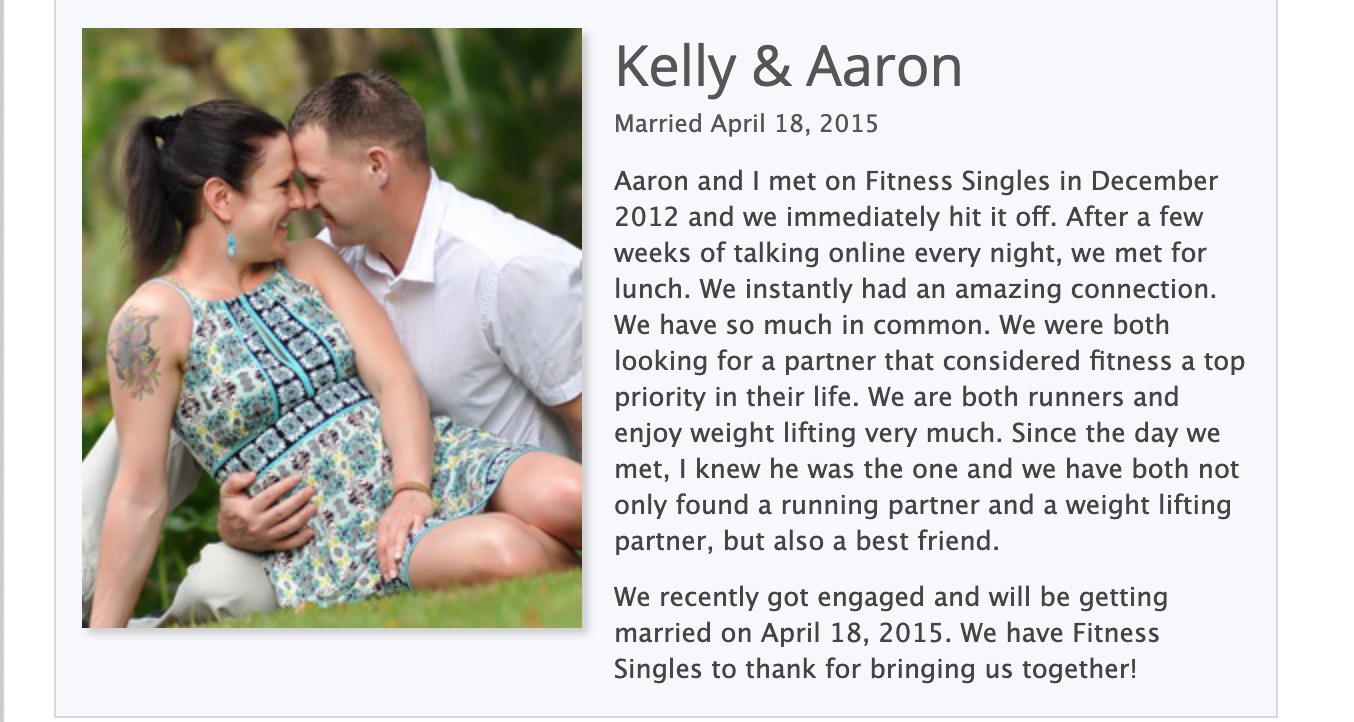 Q&A
Is FitnessSingles Safe?
Undoubtedly, this is a secure dating site that guarantees the provision of authorized access to information, as well as maintaining and guaranteeing the accuracy and completeness of the data throughout the entire life cycle of the site. In addition, the site uses information storage and processing systems, interfaces for working with information, and authorized access systems.
Is FitnessSingles a Real Dating Site?
Is FitnessSingles any good? Definitely, this is a really real, not scam dating site that helps to meet people, build relationships, go on dates while continuing to be not just a dating site, but also a tool for bringing people together, seeking common interests, in particular sports.
How Many Members Does FitnessSingles Have?
At the moment, FitnessSingles is used by thousands of users, and their number is constantly growing. This indicates the high interest of people in sports and the seeking new friends and like-minded people in this path.
Is FitnessSingles Worth It?
Is FitnessSingles worth paying for? There is no doubt about it because this platform has many years of successful online dating experience, offers many features, most of which are free, and also has an excellent reputation and select members. Therefore, we can say with all confidence that this web resource is really worth it.
How to Use FitnessSingles?
How does FitnessSingles work? Using the site is very simple and understandable, even for beginners. The first time you launch the app, you will need to specify your gender and choose what you want from Badoo (find new friends, just chat with someone, or go on a date). After that, it remains only to enter your mail or phone number, as well as write a name. Basically, if you log in through Facebook, then all this information will be pulled up automatically.
Is FitnessSingles Free?
The site is partially free. After registration, all users receive standard subscriptions and can use all basic features for free. For those who want to raise their account to the top and get VIP support and a lot of other premium services, you will need to purchase a paid subscription.
Can I Use FitnessSingles Anonymously?
It is impossible to completely hide the profile on this dating resource, as on other dating sites. If the owner of the profile is worried about the safety of his data, then there are only two options to delete the profile or clear his profile from information about himself and personal photos in the "Description" column.
How Can I Delete My Profile?
Deletion can be carried out in two steps, which will lead to the deletion of the profile directly on Facebook. Experienced users are advised to create a separate social network profile for this site.