Explore the Best MeetMe Alternatives for Online Dating
Dating sites are in demand among Internet users. The reasons and goals are different for everyone. Some people do not have enough time to get to know each other in real life due to the workload. Others are very shy, they are more comfortable seeking a soul mate and chatting while sitting at the monitor and pondering each phrase.
There are many cases when people met on the site and really found a soul mate, for example, on MeetMe. This dating site has a wide age group of users, high-quality profiles, reviews, and stories of real relationships after meeting on this resource. But it is worth noting that this site is not the only one and that there are still several legit MeetMe alternatives sites. This review is about sites better than MeetMe, so if you are interested and want to know all the important information, then continue reading this article.
MeetMe
MeetMe is a popular social dating app in the US that launched in 2005 when the company formed from the combination of myYearbook and Quepasa was renamed MeetMe. The site is currently operated by ProSiebenSat.1 Media, which acquired the MeetMe Group in 2020. MeetMe age group is from 18 to 35 years old. The service is focused on finding new acquaintances not by internal and external qualities but by professional orientation. People of the same or similar professions will always be able to find topics for communication. Here you can meet not only friends or a soul mate for serious relationships but also business partners.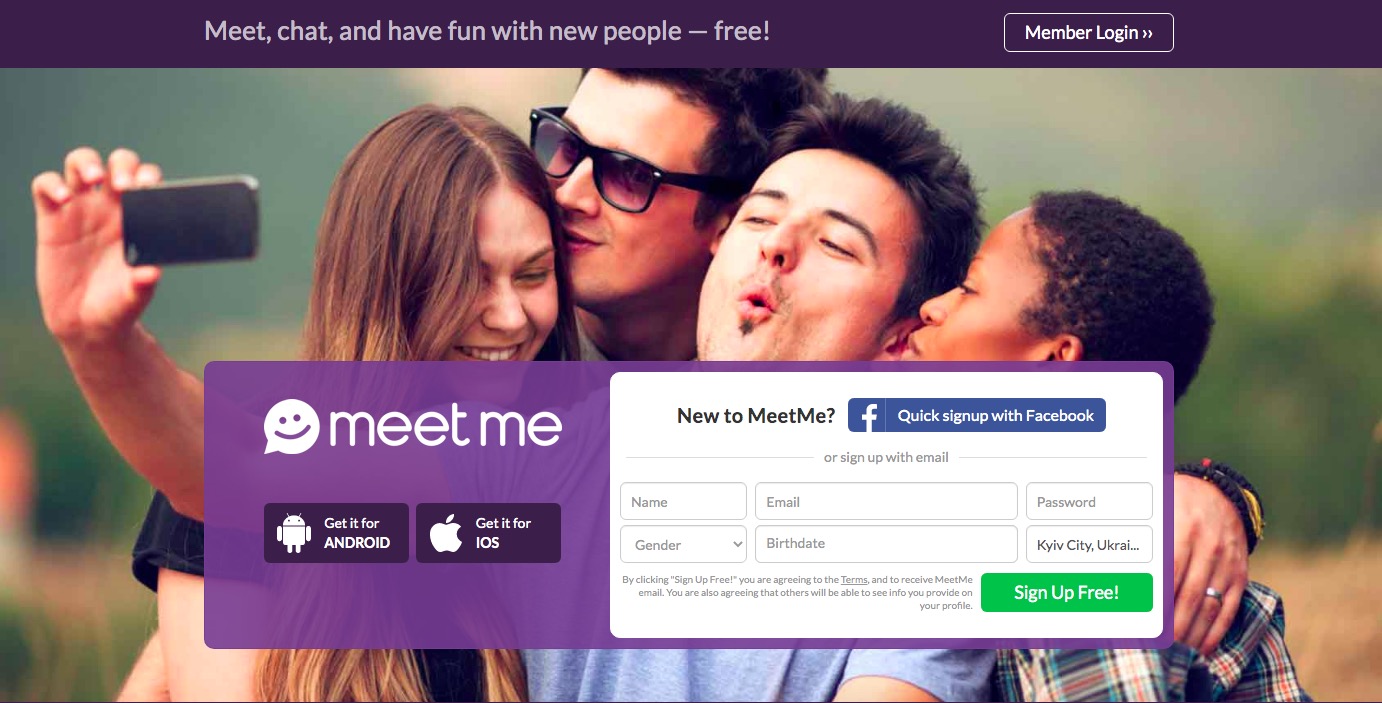 The administration closely monitors the morality and culture of communication of users. Moderators can block intimate photos, rude inaccurate statements. You can file a complaint against violators of the rules of the service, which will be considered as soon as possible. There is a black list. The bulk of the audience uses MeetMe for romantic dates and serious relationships, but with its multi-million dollar membership base, you can easily find those seeking no-obligation sex here.
As with most other sites like MeetMe, registration is free here, you can register via social media or using a standard form to fill in the details. It is also worth noting that there are paid services, the cost depends on the region of residence. For a fee, it is proposed to raise a profile, "invisible" mode, send a gift, a premium account.
Sites Like MeetMe
As mentioned at the beginning of this review, MeetMe is unique. We have selected sites better than MeetMe, they are popular, effective, easy to use, reliable, and offer a lot of powerful features, most of which are completely free of charge. So, here are these dating sites like MeetMe.
Ashley Madison
Pros:
Free registration available;
High-end services;
Low prices;
Selected members;
Customer data protection;
A lot of advanced communication tools and features.
Cons:
Free platform access is limited;
Ashley Madison is an international platform founded in 2002. Today, this MeetMe alternative is represented in more than 50 countries and has many millions of users from all over the world seeking partners here for serious relationships.
When registering, you need to answer the questions of the test developed by psychologists. It will take about half an hour. According to the creators, the test helps in selecting compatibility for various parameters. You can register for free, take a test and view user profiles. Communication and acquaintances will become available after depositing funds. This is done to weed out spammers and those who are not interested in serious relationships.
The service selects dating for both married people and those who are in relationships. It is also worth noting that you can find a partner here, depending on your religion. Ashley Madison offers to date only with serious intentions and a psychological selection of partners. There are no advertisements on the service. Therefore, if you are seeking a not scam dating web resource, then Ashley Madison is an excellent choice.
Cost / Prices & Plans
Basic
100 credits – 59 cents / one.
Classic
500 credits – 34 cents / one;
42% less price.
Elite
1,000 credits – 29 cents / one;
51% less price;
Highlight your profile for 30 days of free.
Flirt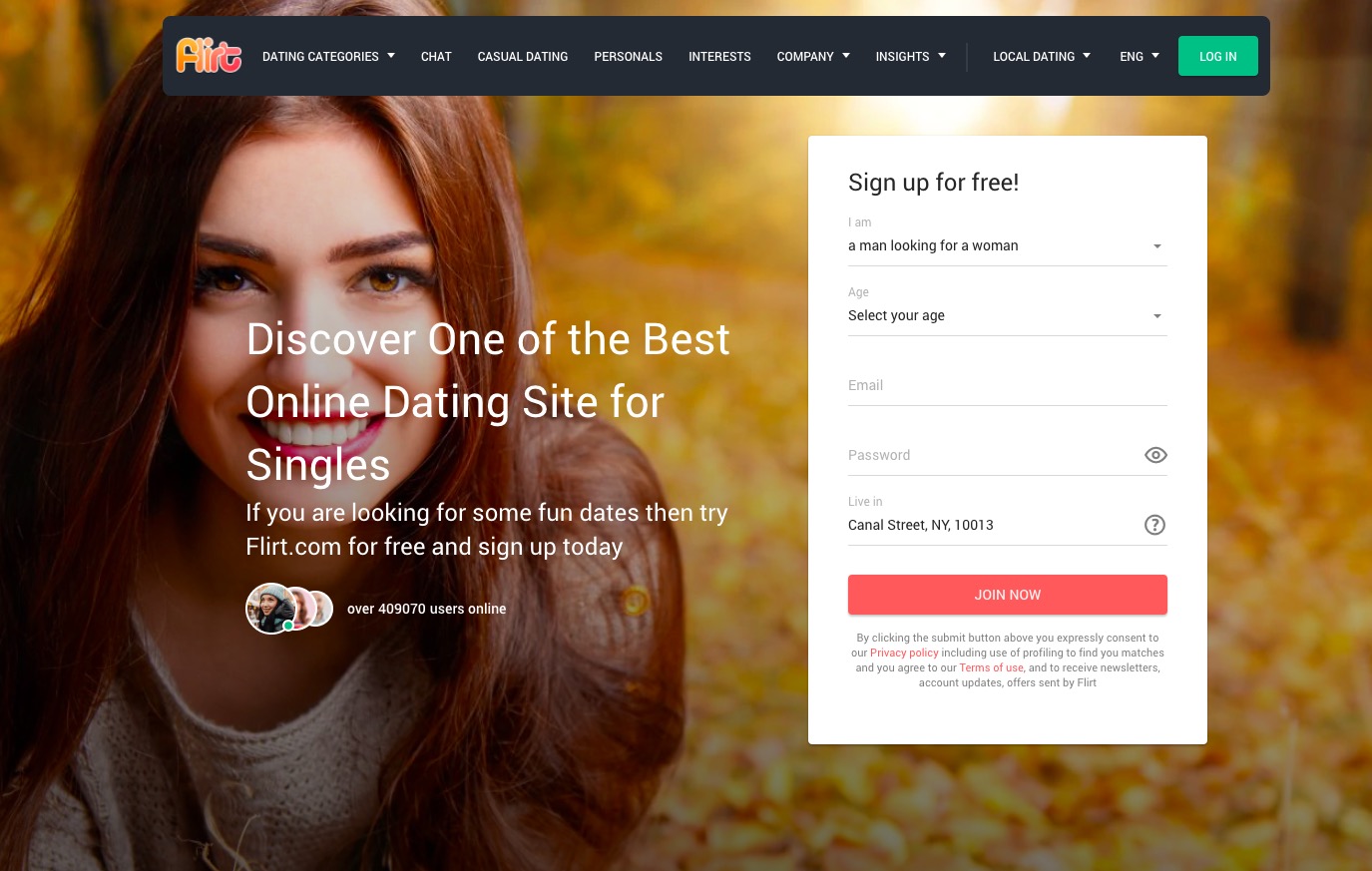 Pros:
Free registration available;
High-end services;
Low prices;
Huge database;
Customer data protection;
A lot of advanced communication tools and features;
The Passion site has been translated into 11 different languages.
Cons:
Free platform access is limited;
You have to pay to unlock all platform features;
Flirt is a popular MeetMe alternative that was launched in 2011. Its users are mainly from the United States and from other English-speaking countries. Flirt is not only about love. Friendly communication, interesting interlocutors, and even friends for joint travel – all this is on the Flirt service. The creators of this top-notch partially free alternative to MeetMe care about the convenience of users: quick response to complaints, removal of blank profiles, and accounts of violators of the site rules.
Cost / Prices & Plans
1 Month — 27.30 $ / Month;
3 Months — 15.30 $ / Month;
6 Months — 12.27 $ / Month.
JerkMate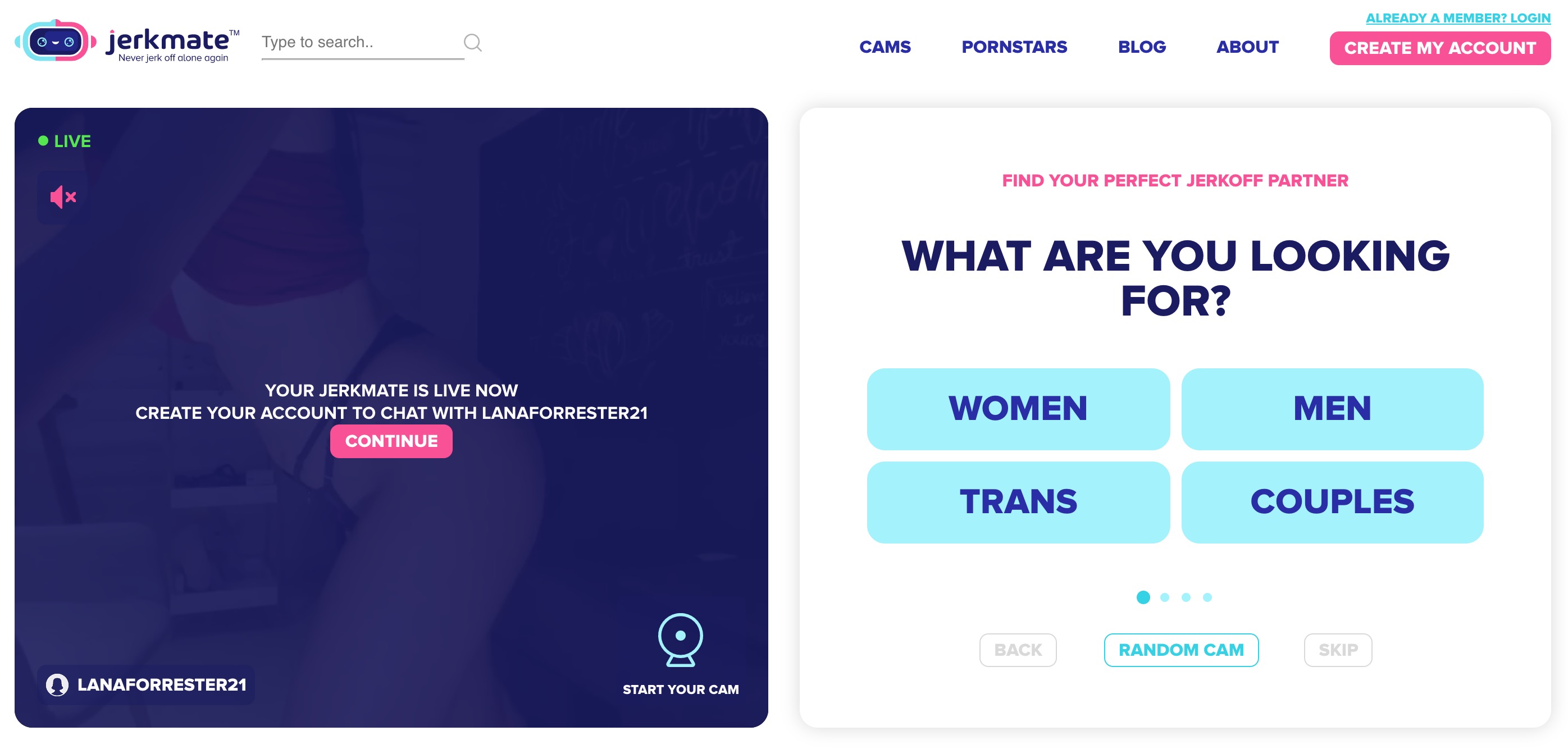 Pros:
Signup doesn't cost a dime;
Advanced match profile search algorithms;
Cheap prices;
Well-though-out platform interface;
Virtual gifts;
VIP-support;
Multiple options for dating young and pretty singles;
Mobile app.
Cons:
An unbalanced number of ladies and gentlemen.
JerkMate is another site similar to MeetMe. It has established itself as an effective dating resource. Initially, the developers conceived a site only for the United States, but over time, millions of residents from different parts of the world have united in it. A feature of this MeetMe alternative is the combination of sex entertainment with the search for serious relationships. The service offers various games for free, you can have an interesting time.
The name itself suggests that jerking off is considered the main thing here. Communication is ineffective without posting personal pictures. You don't need to pay for the registration itself, you also don't have to shell out money for communication, viewing and commenting on the pictures you like, and creating a profile.
For a fee, you can get VIP status, raising your profile, invisible mode, additional displays of photos and adding them to the feed, the ability to give gifts. The service offers users to participate in various contests. For the victory, the MeetMe competitors are awarded prizes that will be useful on the site. Often there are special offers that allow you to save money.
Cost / Prices & Plans
Premium subscriptions start at $ 14.95.
Pre-recorded performances cost $ 2.99 for 24/7 access to any artist's video archive.
Loveaholics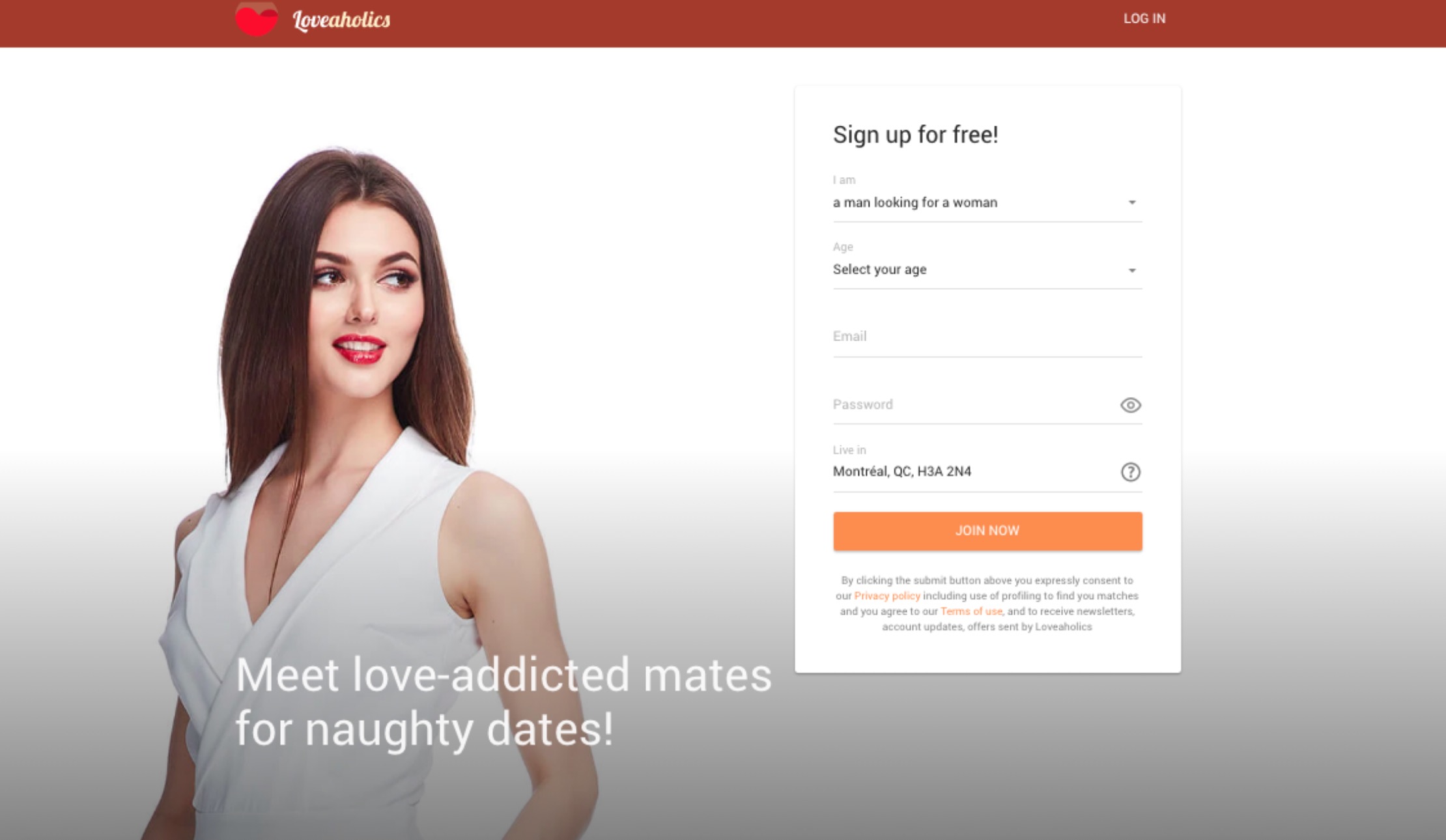 Pros:
Unique behavioral matchmaking technology;
Millions of registered women of any age;
The availability of the dating mobile app;
Customer data protection;
A lot of advanced communication tools and features.
Cons:
Loveaholics is another cool dating platform. Like other sites similar to MeetMe, registration of the Loveaholics is open to people over 18 years of age. Users of this MeetMe alternative platform are warned about this in the section "Agreement". Registration, communication, viewing of profiles are offered free of charge. Additional services that enhance user experience can be purchased for money. These include: raising a profile, adding a picture to a photo feed, getting a VIP status.
Communication takes place through private messages. There are no group chat services, video and audio calls on the service. This does not prevent users from exchanging contacts or meeting in real life.
Cost / Prices & Plans
1 month – $64.20;
3 months – $69.30;
6 months – $111.60;
FlirtyMature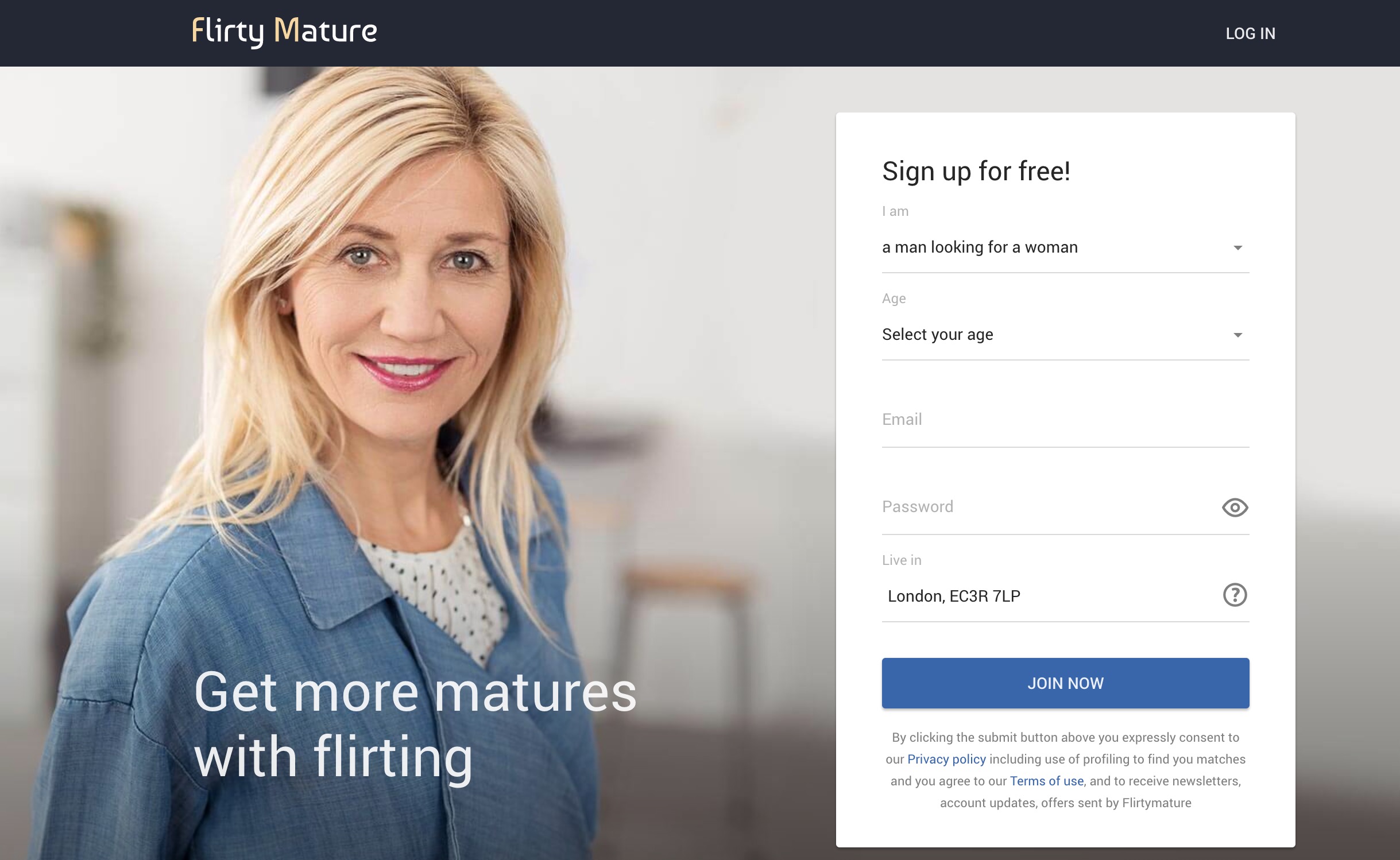 Pros:
You can have a profile set up in a matter of a few minutes;
FlirtyMature is easy to navigate, which helps people who might not be that computer literate;
The site has lots of users based in the United States;
FlirtyMature is very active with thousands of users per week;
You can narrow down matches to within a 50-mile radius;
FlirtyMature offers excellent support for its users;
It's easy to cancel your account should you wish to do so;
Discounted 3-day membership is available for new users who want to see what the site offers.
Cons:
Some profiles seem fake;
FlirtyMature offers no real search algorithm.
FlirtyMature is another one of the MeetMe type sites. Currently, this dating site has a huge user base of users from different countries. As with other sites of this kind, you can register upon reaching the age of majority. Here it is possible to post ads indicating the characteristics that the future partner should have.
Having opened the main page, you can immediately see the pictures of users who are geographically located nearby. No address is required, the program will do everything by itself. Registration on this MeetMe alternative is free. At no extra cost, you can get acquainted, communicate, rate photos, keep a diary and live broadcasts, use applications, play. The diary can be opened for viewing by all participants or made confidential. Unlike MeetMe free alternatives, there are paid services here: VIP status, invisible mode, using a message filter, increasing the possible number of products.
You don't have to create an account to get acquainted with this service. The developers have provided such an opportunity for site visitors. So if you're seeking a MeetMe alternative for finding hot girlfriends of all ages, then FlirtyMature is worth your consideration.
Cost / Prices & Plans
1 Week – $7.00;
1 Month – $28.80;
3 Months – $48.60 ($16.20 / Month).
Conclusion
In this post, you learned about the top dating sites. Every best alternative to MeetMe presented in this article has vast experience in connecting their users to each other. Therefore, if you decide to meet your love on the Internet, then hurry up to register on one of the MeetMe alternative online resources, register, fill out a profile, and start chatting with the most beautiful women on the Internet.