A Full VioletDates Review: All You Need to Know
A dating site is an online dating platform that provides virtual communication services to those who want to find their soul mate.
Such websites are analogs of real agencies that help those who, for some reason, cannot or do not want to look for love on their own. The purpose of dating is different for each user: long-term relationships, marriage, friendship, searching for a travel partner, just virtual communication. What is VioletDates.com? This VioletDates review will tell you everything you need to know about VioletDates – one of the dating platforms that help people find each other.
Short Review
VioletDates is an international communication dating platform which aims to help people from different countries communicate. While VioletDates is a great way to meet and date new people with no geographical boundaries in mind, this website particularly excels in introducing you to very attractive single women from Ukraine and Russia.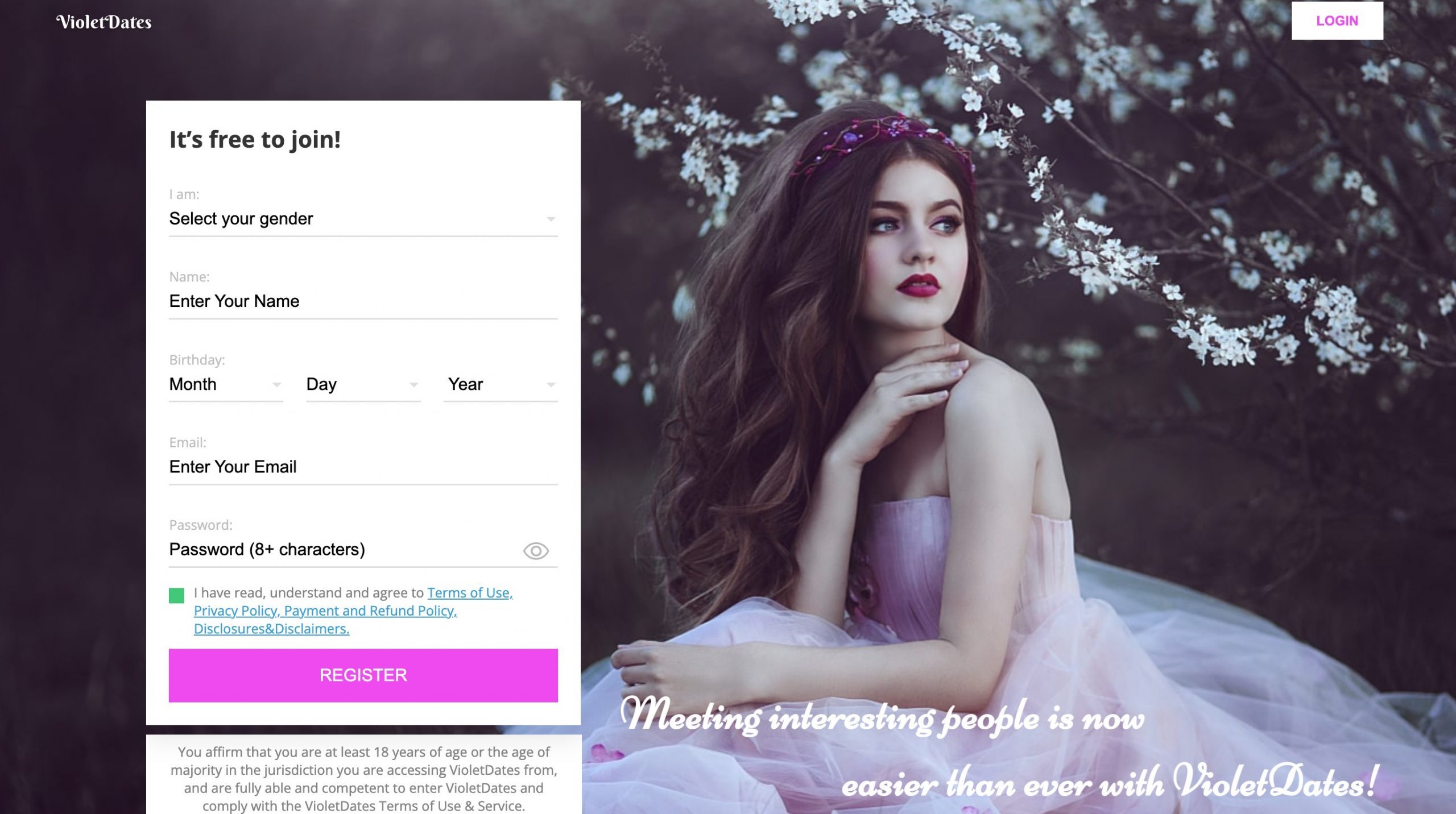 Pros/Cons
Is VioletDates any good? To find it out, we should first take a look at its benefits and drawbacks.
Advantages
Live-Chat.
Proof of identity verification.
One can report spam profiles.
Profiles are private.
Disadvantages
No mobile app.
The site is very young.
No anonymous payment methods.
Registration Process
How does VioletDates work? First comes the registration. A dating site without registration is a rarity because it is usually not very convenient for both the user and the site and its statistics. Depending on the dating platform, you may spend a different amount of time to register, but the essence is the same: you need to provide the site with your name, date of birth, email address, city, or country. Many sites offer to specify the gender of the partner you are looking for.
This is usually followed by the procedure for verifying the email address. After that, many dating platforms either immediately register a new user in the system or ask you to wait until the moderators consider your candidacy (rarely). VioletDates lets users register in minutes without the need to wait.
Upon successful registration, you will be prompted to complete your profile and upload your main photo. Some sites ask you to take a survey or even a large psychological test. The truth about VioletDates is that it also offers a kind of short test immediately after registration.
You can always complete your profile with a short introduction about yourself: usually, people write about their hobbies and tastes to describe themselves in more detail as a person. Then comes the photo. Every VioletDates.com review says that it is extremely important. The best photo should be chosen: studies say that the photo is the first thing that visitors to your page pay attention to, which means it should be excellent.
All you need to do next is to be active!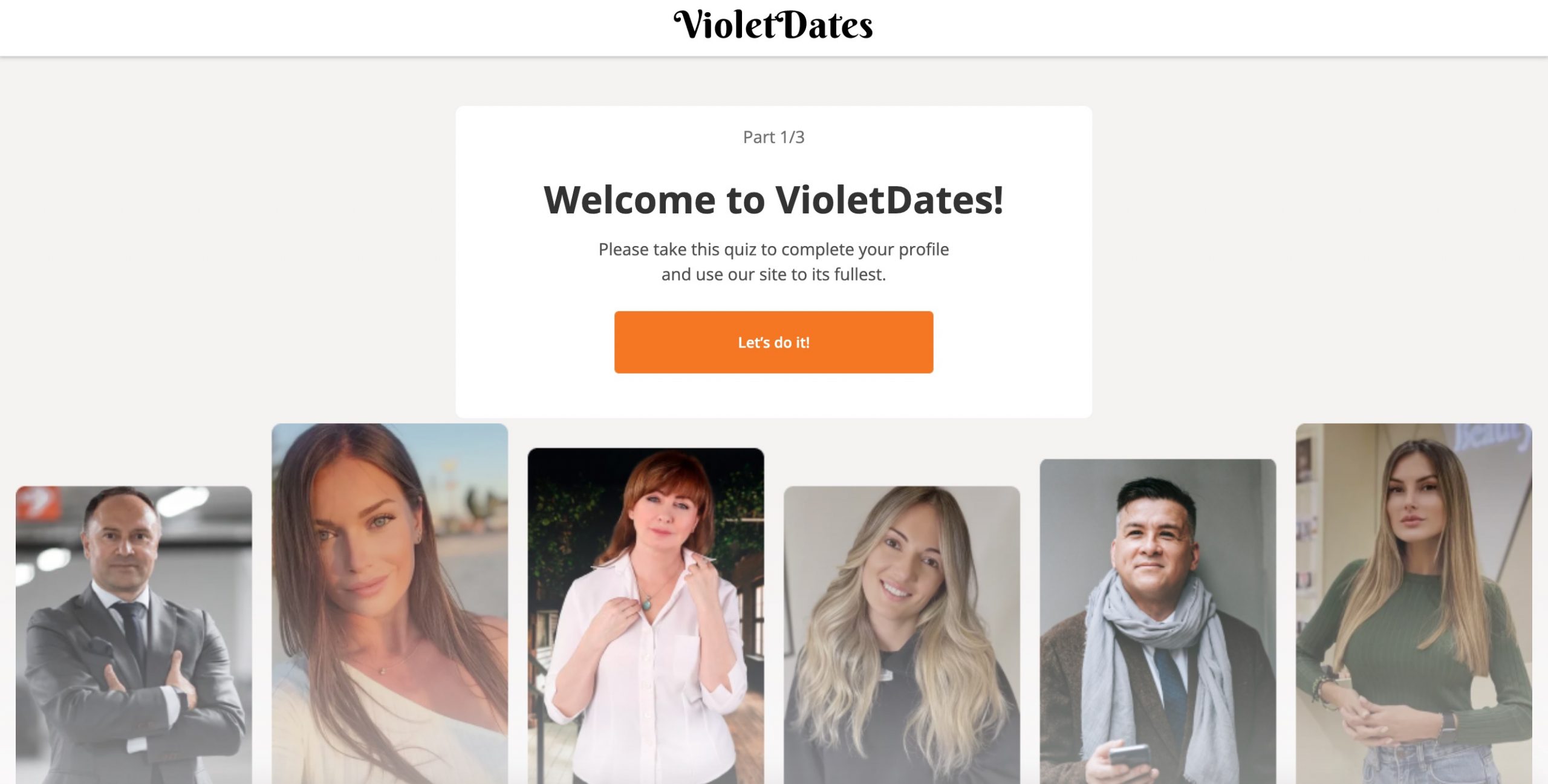 Searching Features
On the VioletDates website, basic search criteria include:
Extended searches are available using more specialized criteria.
Regional searches are available to identify people interested in dating in your location. Additionally, you can create a profile video that can further help you stand out and separate yourself from other members. VioletDates free search provides the ability to block selected members from contacting you. This can be particularly useful if you are receiving too many responses from members you are not interested in.
You also have the option to invite and/or enter private chats with other members (it is paid). In our VioletDates review of the website, we'd like to underline that the search process is pretty convenient on this site.
Free vs Paid Version
Is VioletDates worth paying for? VioletDates reviews say it's pretty difficult to use this site free of charge, as many essential functions are paid. The currency here is credits, and you can get 20 credits for 2.99 euros. The great thing is that 20 free credits are given free of charge immediately after the registration, allowing getting to know the site a little bit better. Let's take a look at the prices.
Mails
Sending mails to one particular member: first mail costs ten credits, each following mail 30 credits.
Opening mails: first mail is free; each following mail costs ten credits.
Sending photos in mails: free of charge.
Opening photos in mails: 10 credits per photo.
Opening videos in mails: 50 credits per video.
Chats
Live chat: 2 credits per minute.
Stickers in chat: 5 credits.
Sending photos in chat: 10 credits.
Opening videos in chat: 50 credits.
Here are what you can do without paying any money:
Register.
Fill in your profile.
Upload photos.
View other users' profiles.
As you can see, investing some money is essential if you want to communicate.

Profile Quality
The next thing we would like to discuss in our review on the VioletDates dating site is the profile quality.
In this fast-paced, social, media-dependent world, we rely entirely on the Internet, from chatting with old school friends and finding a job to where we'll spend next weekend. Therefore, it is normal if we entrust the meeting with that very special and unique one to the Internet.
The most difficult part of online dating (except, as you know, meeting new people) is to create the most attractive profile on a dating site. And, as practice shows, this remains one of the most serious mistakes. An unreadable and unfortunate personal resume is the first thing people see on a site, and it determines whether they ask you out on a date or leave your message unanswered. Is VioletDates a good dating site? In terms of profile quality, it is. Profiles contain all the important information you may need to understand whether you want to communicate with this or that person. There are important details about appearance, habits, preferences, etc.
For those eager to start an online dating journey, here are some key tips to make your profile attractive:
Ask Friends for Help
Invite friends to write a story about you. Sometimes they know you better than you know yourself.
Avoid Cliches
Even if you enjoy "walking on the beach," "living a healthy lifestyle," or "drinking wine by the fire," leave it out because that's what everyone says. Think of something interesting – something that can become a starter for a new acquaintance.
Create a List of "Sociable" Hobbies
People need to imagine how they will fit into your life, so describing yourself as a "bookworm," "internet addict," or "homebody" makes them worry that you don't need other people and therefore you will never be with them. Cultivate a love for concerts, hikes, or exhibitions – this will attract more messages.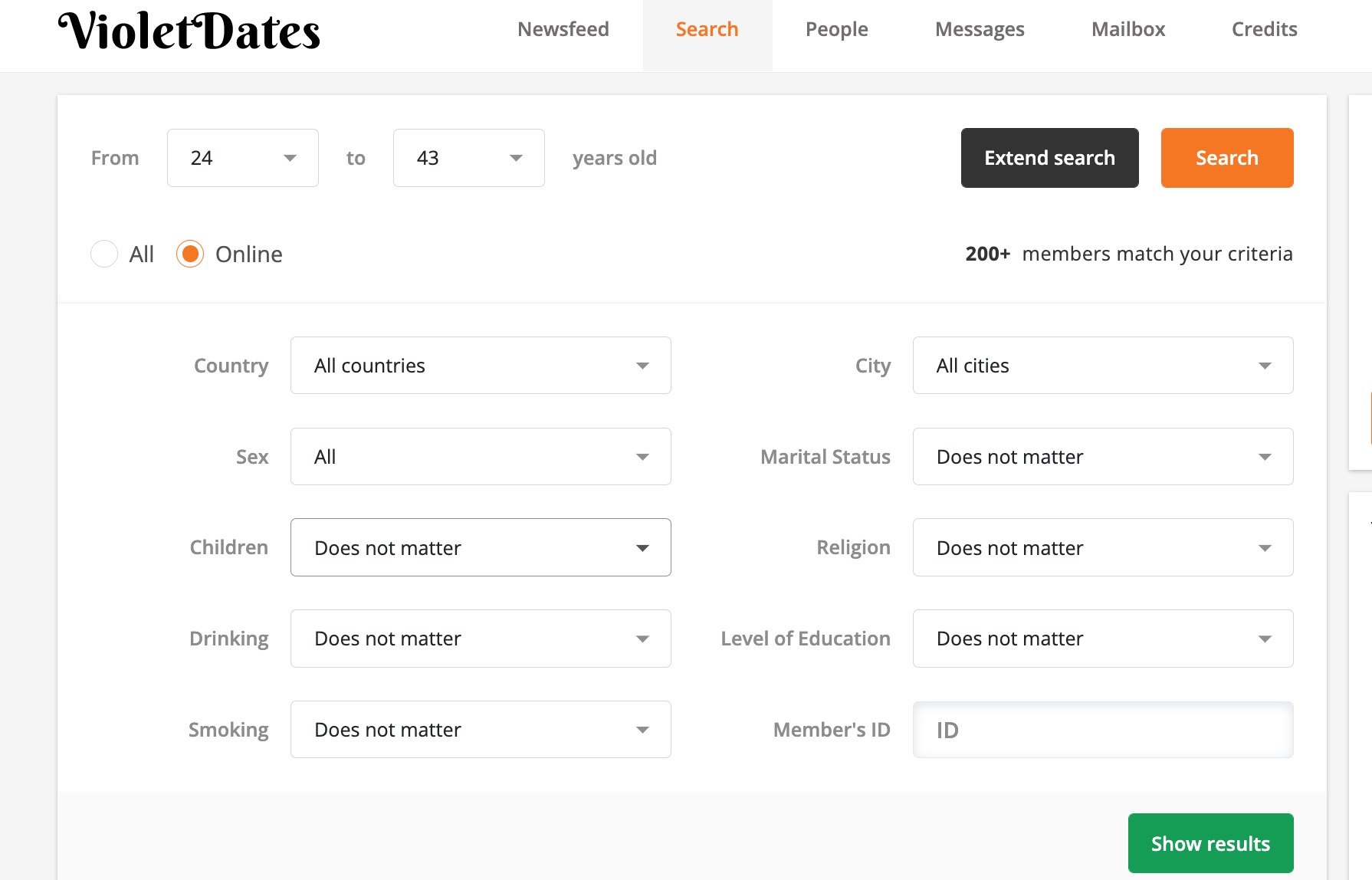 Stay Positive
Complaining is unlikely to set the stage for a romantic relationship. Focus on positive traits or a hobby that you enjoy. Avoid saying things that are too critical, like "I hate people who overdramatize everything!" or "Unless you're a Nobel laureate or an astronaut, don't bother yourself." Dating is difficult for everyone, but you can get an excellent start by keeping a positive outlook on the world.
Be positive, avoid a negative tone and show confidence.
Be Honest
Lying is not welcome anywhere, and the dating world is no exception. Honesty is the best policy!
Mobile Application
Unfortunately, there is no mobile application for now, but you can easily utilize the web version of the site on any device: it will work just fine.
Safety & Security
Is VioletDates safe? Like on any dating platform, you may run into fake profiles if you are not careful enough. Nevertheless, the site administration is doing its best to provide a good user experience. It is possible to report scam profiles and contact the support team in case of any problems. But there are still other dangers that may await you if you don't choose the site carefully.
Beautiful girls, colorful advertising, promises of happiness are the most attractive things about dating sites. This is what the administration of such resources usually can and wants to show, but there are things that are worth paying attention to in the first place.
Online dating sometimes scares people with novelty, someone with possible deceptions. Let's look at all the dangers that may lie in wait for users of popular dating sites.
Fraud sites. This danger does not apply to VioletDates, but many users face it while looking for the right site. The easiest way to avoid such problems is to take a look at user reviews before investing money in this or that dating platform.
Theft of personal information. Usually, sites do not ask to provide valuable information. Your name, country, age, and a few words about yourself are unlikely to be used against you – unless you're worried about your current spouse discovering your profile. And registering on a top dating site under a pseudonym is hardly possible: the largest resources ask for a screenshot or photo of an identity card to confirm that you are a real person. This is optional and such pictures cannot be used against you in any way.
Fake profile photos. You should not be afraid of this: the most popular dating sites may ask users to provide an identity card during registration or later, just to verify the account. So, if photos with the image of another person appear in the profile, such a profile is deleted by the administration. But if the moderators did not keep track of a single user, you can really suffer from lies – however, only morally, falling in love with a beautiful face.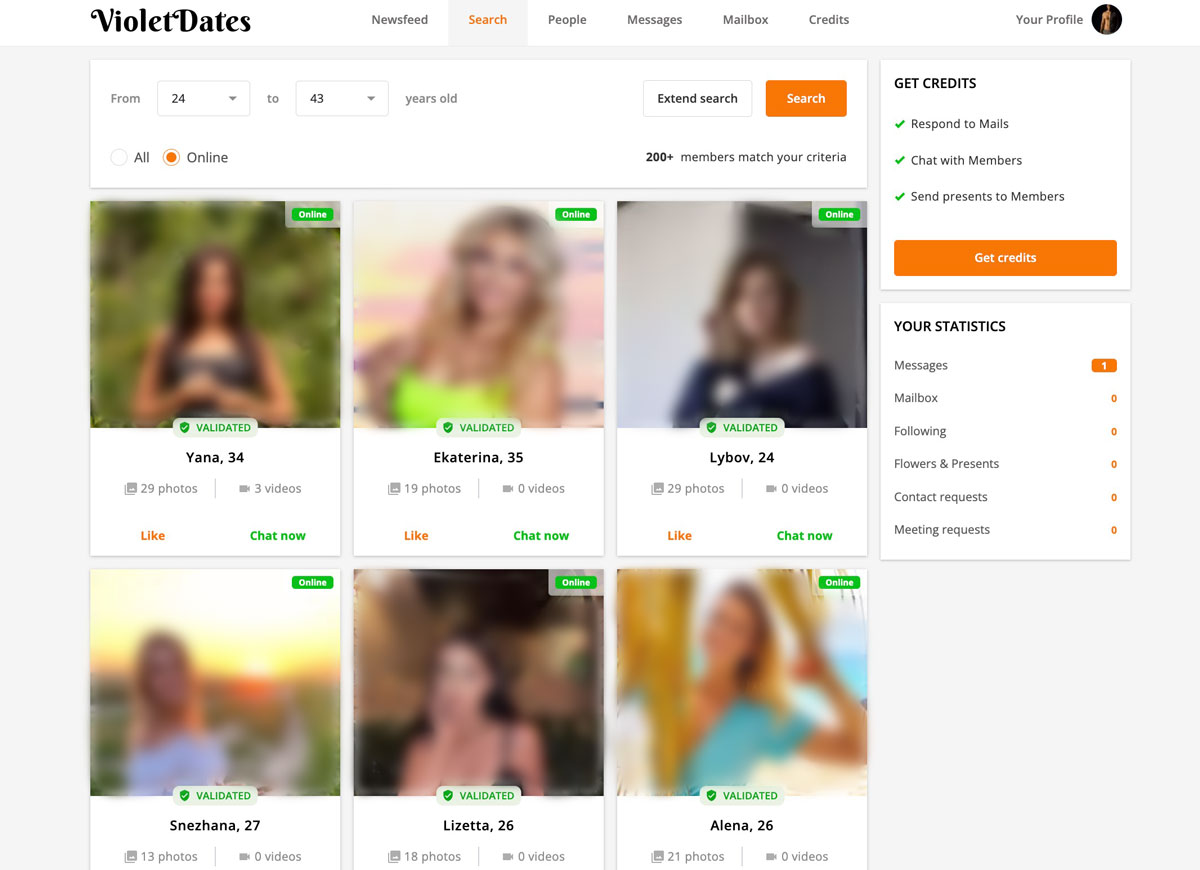 Help & Support
Understandably, nobody can say what problems you will face when utilizing the dating platform. That's why there is the customer support – always ready to help you. On VioletDates dating site, it is possible to contact customer support via email. Just describe your problem briefly, and you will soon get a professional solution.
Alternative Services
Foreign singles go mad over European dating as local people are extremely attractive, friendly, and fun. What's more, women love foreigners and enthusiastically agree to date them. It sounds like a perfect mixture. If you want to try several sites, we recommend trying some other alternative dating platforms.
BravoDate.
AmourFactory.
JollyRomance.
AmourFeel.
SingleSlavic.
CharmDate.
Conclusion
As you have already understood from our VioletDates dating website review, this dating site is not a perfect one, but it is not the worst option either. If you want to try it – feel free; nothing dangerous awaits you there. If you ask, "Is VioletDates worth it?" the answer is positive.
FAQ
Is VioletDates Free?
Like any other dating platform, VioletDates offers some options free of charge, while you will be obliged to pay for enjoying others. Nowadays, one can rarely find a completely free dating site. So, if you are seriously intended to find the love of your life (or simply a sex partner), be ready to pay.
Is VioletDates Site Full of Bots?
Nowadays, the problem of fakes and bots is really acute. Reviews show that there are some fakes on VioletDates. But if you are careful enough, it will not be a problem for you. Moreover, it is possible to report suspicious profiles.
Is VioletDates Safe?
Your safety in all areas of your life depends on you exclusively. If you are careful enough, you will never face any difficulties. Don't send money to strangers, avoid suspicious profiles, and contact help if needed, and you will be fully safe.