Swinglifestyle Review – Find Out What Makes it a Popular Choice for Swingers
Short Review
The world of online dating is changing with every new swing of life and people's preferences. An impressive number of people at SwingLifeStyle have turned to the platform to try something spicy and hot. Some men are looking for love with no future and casual relationships. Others seek something light and non-binding. In our SwingLifeStyle review, we try to find out how easy it is to find relaxation or love after registering for such a service.
Pros/Cons
Pros
A large community of swingers
Free usage possible
Profiles with various sexual preferences
Live events and cruises
Swinger forums, groups, clubs, and blog
Well-organized site's structure
Convenient app
Cons
Paid communication features
No free access to other profiles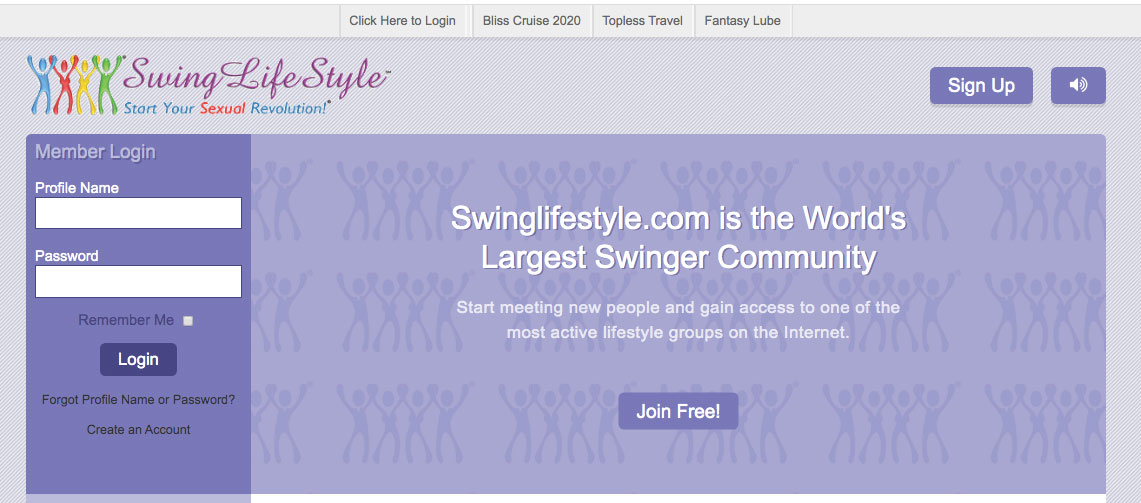 Pricing Plan
The SwingLifeStyle dating platform makes online communication and the meeting phase possible by incorporating an easy messaging service and many features. The site uses a series of intuitive and straightforward mechanisms. They allow people who sign up to interact with like-minded members worldwide. Without having too many difficulties, you go straight to the point. But is SwingLifeStyle any good?
You grab your computer, connect to the SwingLifeStyle official website and discover thousands of people. Many registered ladies and gentlemen seek something special. To interact, you use many services offered to seize the opportunity of meeting hot men and women. In our SwingLifeStyle.com review, we discovered that the final aim of registration is to make the meetings, the matchmaking between users accessible.
At the time of our review, we consulted the official website to check the number of subscriptions available to users. To have full membership, you have the choice between these options:
1 month – $19.99
3 months – $29.99
6 months – $49.99
12 months – $69.99
Lifetime – $149.99
The SwingerLifeStyle site's staff may change the prices at any time, offering new subscription plans or discounts. Such an adult site is not cheap to use. However, the bunch of options and a convenient app may justify your money.
Payment options available include credit card, backup credit card, and online check. Keep in mind that without buying a membership, you don't see profiles of users, get no messages and partner proposals. Is the community worth it, and is SwingLifeStyle a good dating site?
Registration Process
The SwingLifeStyle community satisfies the tastes of users because it has an intuitive layout. The community encourages you to interact with those who strike you the most. It makes you more confident in wishes and desires, eliminates your shyness while messaging and meeting in life. However, without registration, you cannot access anything. You should spend some time and effort to sign up and create an account.
The signup process on the SwingLifeStyle dating site is free and accessible in many countries. The necessary criteria to enter is your age. You should be over 18 years old. Within a few minutes of registration, you join the community where there are many adventures to discover.
Our review on SwingLifeStyle dating site has shown the site offers a basic online form to fill in with the information related to your personality. It includes:
Profile name
Password
Account type (male/female/couple)
Age
The next step is specifying the name, email, and location to give the site an idea of where you type from. Then wait for the confirmation email to arrive, and activate your profile by clicking on the link.
What we didn't expect was an extensive form with questions. It should describe your life and reveal sexual preferences. The first question is about the type of pleasures you are seeking. The SwingLifeStyle service describes these pleasures with such names: tame, moderate, wild. The next step you should go through to get access to the sex community includes indicating:
Age
Height
Weight
Sexual orientation
Habits
Gender preferences
Minimal and maximum age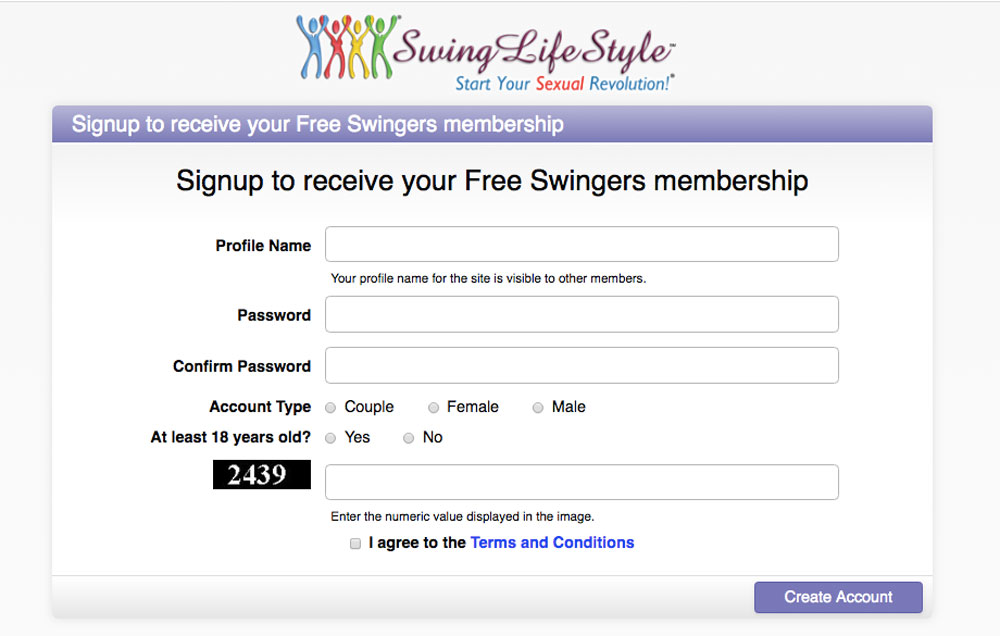 The creation of a profile is not limited to the already discussed criteria. It is not surprising because the users will be curious to know what views you hold, what fantasies you would like to realize. 4 text fields where you write whatever is on your mind include:
About you
What you are seeking
Describe your personality
Reveal your fantasies or share previous experiences
Additional facts
The SwingLifeStyle website has certain limitations. If you want to use the whole variety of features, you should purchase a subscription. We will discuss the difference between free and paid usage later in our SwingLifeStyle dating website review.
Searching Features
The first time you connect to the SwingLifeStyle.com site, you find many groups, clubs where you see exciting singles eager to have a hookup. With a clear and well-organized site's structure, it becomes easier to flirt with strangers and a hypothetical future partner. You never know where life will lead you and with whom you will sleep tomorrow. It's up to you to use the proposed search filters to find people in your area and find out what they have to offer.
After discovering "what is SwingLifeStyle.com?", we should keep in mind the site's concept. It strives to unite members and, therefore, gives limited access to strangers. The same works with the search tool.
Restrictions on access to profiles presented on the site protect the personal data of users. The question that emerges from this: Is SwingLifeStyle safe? There is no guarantee that all site users are not scam ones and the site is legit. But your photos, sexual preferences are available only to those enthusiasts who have subscribed.
We want to share with you the search criteria you may take advantage of after the subscription. They include:
Gender
Age
Distance
Smokers/drinkers
With pics
Online
Want to date a single partner
Despite the SwingLifeStyle free search, the advantage of the site is a geo-localization feature. Visit the profiles of singles compatible with you, your choices, and tastes. After specifying the primary interests, look at the published photos to let the imagination run wild.
Free vs. Paid Version
As we discussed earlier, free usage will not pay off for several reasons. First, the profile database remains closed to you. Second, no options are fully available. But, is SwingLifeStyle worth paying for?
With a paid subscription, you have the opportunity to interact and organize some meetings, first online, and then transform the virtual into real. Among the many options you have at your disposal, you access photos, get a clear idea of ​​the user's profile. Paid members enjoy club and group memberships, attending video chats, and reading forums.
After going deeper into the site's structure, you notice there are various live events. They take place in different cities and everyone interested may join them. Such a united community is a great advantage.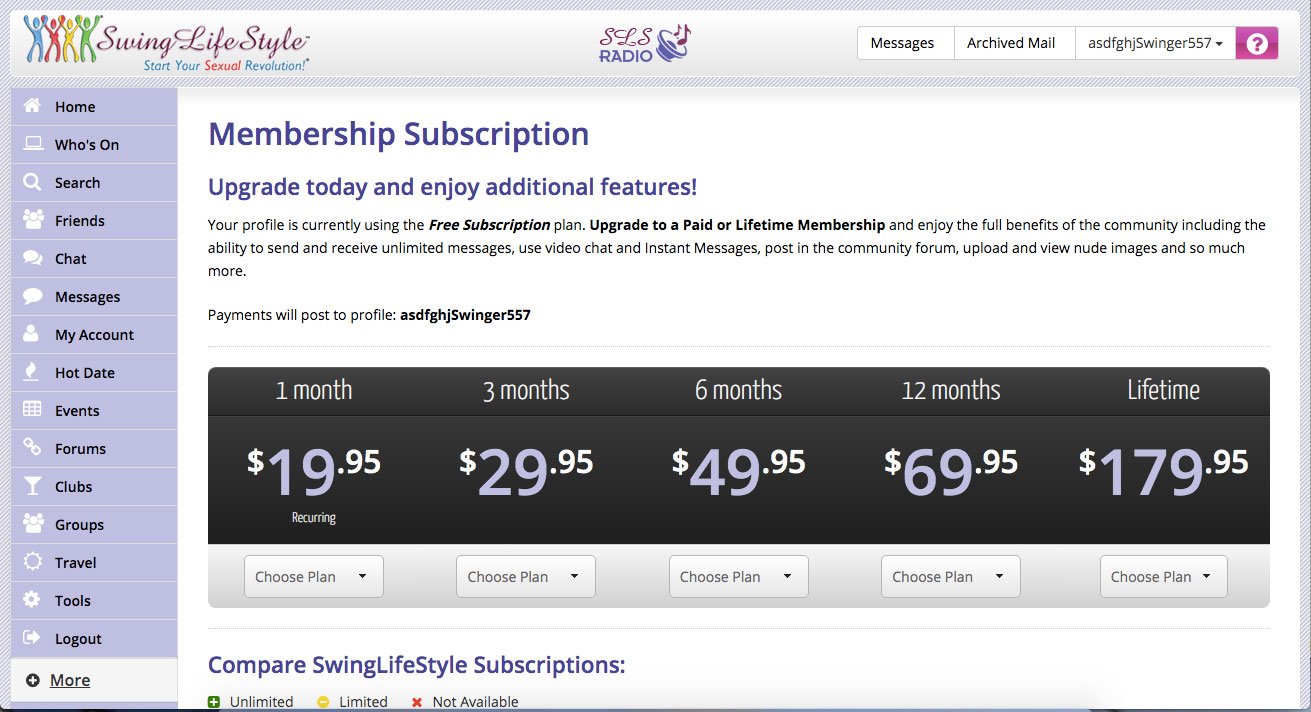 Profile Quality
The platform is direct and caters to a specific audience. It is capable of attracting many users. You are not an exception if you read our SwingLifeStyle review of website.
What you should provide are your information and a little transparency. As with many other adult dating sites, the choice of free features has limitations. However, some may say that paid usage is necessary to meet singles interested in dating and having fun together.
If a user wants to have fun, he doesn't ask, "Is SwingLifeStyle worth it?" He creates a profile, tries to have a little patience, and be sincere. Such a member may find honest people ready to get to know him at 360 and appreciate who he is. The same works for others.
You cannot view the whole member's profile with a basic version. But after subscription, you receive more than on some other portals. Discovering who is new, online, smokes, drinks, wants to have sex with you or your partner is a little part of the information you see in the profiles.
Mobile Application
The SwingLifeStyle service is available via the desktop version and a mobile one. Download an application from an App or Google Play store free of charge and stay in touch on the go. It's a practical idea: while you are on vacation or traveling, you have the opportunity to chat and meet new people to have fun.
Is an app convenient, and how does SwingLifeStyle work via an app version? The advantage we shouldn't ignore is the distance determiner. Based on where you live, the system finds people who live near you. You see a map with icons of registered users in your area. It's a great chance to plan a date and meet on the same day.
Safety & Security
We cannot fail to mention the safety of the website. The service's team tries to check the profiles and photos uploaded to keep away any scams or fake profiles. If someone wants to profit from the service, he should first upgrade to become a paid member. Discovering the truth about SwingLifeStyle and the security measures is possible after purchasing a subscription.
Pay attention to the information you share on the site. Unregistered users cannot see your photos and profile information, but registered members do have access. Don't write your phone number, email, card number, or an exact address, especially if the user is a stranger. Keep a certain distance and stay attentive.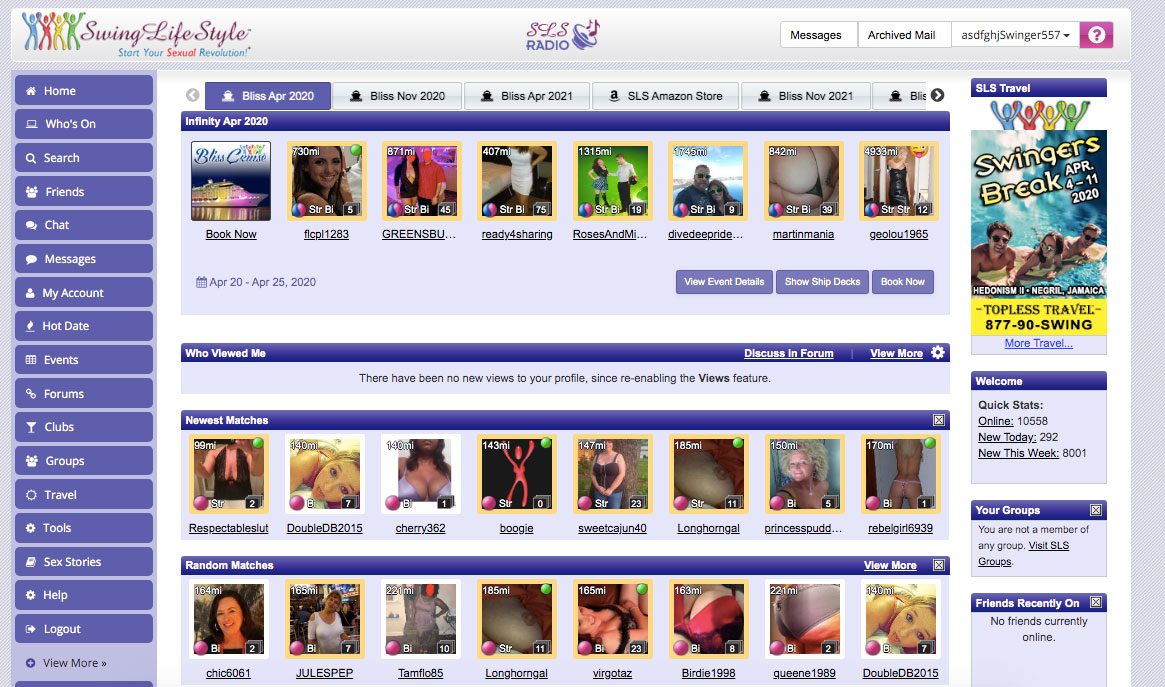 Help & Support
An advice page on the SwingLifeStyle website helps you keep your profile updated. You get instructions on how to act when you have problems with profiles, forums, groups, Hot Dates, pictures, etc. You also get some recommendations on using the service.
In some situations, the FAQ section cannot help. Difficulties with purchasing a subscription, blocking a user, or errors in usage may arise. You want to get assistance and have no idea where to call or who to contact? Many SwingLifeStyle reviews pointed out there is an attentive customer support team. You should create a new customer ticket with the details of your issue. The answer will arrive as soon as possible.
The presence of the SwingLifeStyle app in the App and Google Play store lets members leave their comments on the service. Even there, the team tries to answer some questions, complaints, and recommendations.
Q&A
How to Use SwingLifeStyle?
Getting access to one of the swinger dating sites is free to all people. You should be over 18 years old and accept the terms of use of the portal. The SwingLifeStyle service provides free profile creation. If you want to expand the options, a paid subscription is necessary. It lets you search, chat with members, send messages and add them to the favorite lists.
Is SwingLifeStyle Free?
The site has a free version with many limitations. You won't get many options to find out how the service works and how active the members are. You cannot get an overview of profiles and their interests without a paid usage. Opt for a subscription to use the bunch of features.
Can I Use It Anonymously?
To get access to the SwingLifeStyle site, you should register. The signup process includes entering some personal details: name, email, zip code, age. You may skip the step where you share your preferences or sexual desires. The only way to become an anonymous member is to create a fake account. It is not a legit way to use the portal.
Is It Worth It?
If your lifestyle involves many new acquaintances, sex without obligation with different girlfriends, and love, SwingLifeStyle.com is what can accompany you. It is an engaging site that opens up a community of like-minded singles. You shouldn't worry about how other users perceive you and your sexual intentions. It is where everyone can dive into the depths of desires.