A LoveRoulette Review – An Innovative Dating Platform
Short Review
The LoveRoulette site reminds us of a well-known Chatroulette platform. Its advantage compared to others is that here you get different rooms. They aim at different audiences. If you log in, you run into people from all over the world who speak your language. In our LoveRoulette review, we share some details about the platform to help you better understand its offerings.
Pros/Cons
Pros
Easy to understand graphical interface
Necessary tools to switch between cams
No subscriptions and memberships
Free access to videos and chat rooms
International audience
Real-time communication
Cons
No searching tools
Users don't have profiles
No matchmaking options
Random contacts

Pricing Plan
Looking online for the various LoveRoulette reviews, we notice that they appreciate the service's concept. LoveRoulette doesn't promise impossible dreams. With a legit and transparent attitude, the chat rooms put you in contact with people who have the same wishes: have fun and meet new partners.
Regarding the prices, something is surprising for such an adult webcam site. All rooms are free of charge and allow chatting without additional costs. The portal could make a great amount of money, but it has opted for offering free services. Such a strong point attracts many young ladies, mature women, and men to connect with like-minded people.
Is the audience diverse, and how does LoveRoulette work when seeking a potential sex partner? Members of rooms you enter come from different countries and continents. Although without compulsory registration, it is possible to create an account, which gives you access to additional options, such as sending tokens and joining private rooms.
Registration Process
If you are tired of using "legit" platforms, where users register to find love and meet like-minded people, the LoveRoulette may satisfy your needs. It's time to change your attitude and find out, "What is LoveRoulette.net?" The service offers the possibility of having fun with someone online, discovering sexual pleasures, and not so much living on the promises of love.
Where the service hits the mark in our LoveRoulette.net review is its simplicity and convenience. Unlike more classic dating sites that offer to date girlfriends, men looking for love, and romantic relationships, at LoveRoulette.net, you shouldn't create a complete profile. The facts you share include your username, confirmation of your age (over 18 years), and a strong password. However, it is possible to register and create an account in some chat rooms. It is not mandatory, but it allows some additional options.
Let's not forget the entire principle of the roulette – it's random, and you might as well bump into someone today, and you may never fall back on them. All you should do is go to the official website and choose a room that corresponds to your desires. There are five different chat rooms available, mainly:
Roulette chat
Random chat
Cam chat
Chat rooms
Bazoocam
If you choose one of these options, you will go to the corresponding chat room. They include Wematcher, Coomet, Flirtymania, Realive. The thing that strikes us in our LoveRoulette review of website is its transparency and navigability.
Searching Features
The operation of a portal is simple, starting from the registration phase. All you should do is open a link. And adventures start. Enter any of the rooms in a few clicks and communicate with others via live webcam shows or chats.
There is also a great possibility of "nextering" users. What is it, and is LoveRoulette any good in selecting members? Via any of the four chat rooms, you can talk as long as you want with a person. And at any moment, you have an opportunity to skip them and never meet again. And before you run into ladies or men who want to chat, you're going to experience new feelings.
Whether it is a dating site or not, there is a set of downsides on every platform. Here, you connect randomly with another user. Unlike a more traditional dating site, members come across someone who they didn't expect to meet.
There is no LoveRoulette free search. You get no chance to pre-select profiles likely to interest you and see if they correspond to your criteria.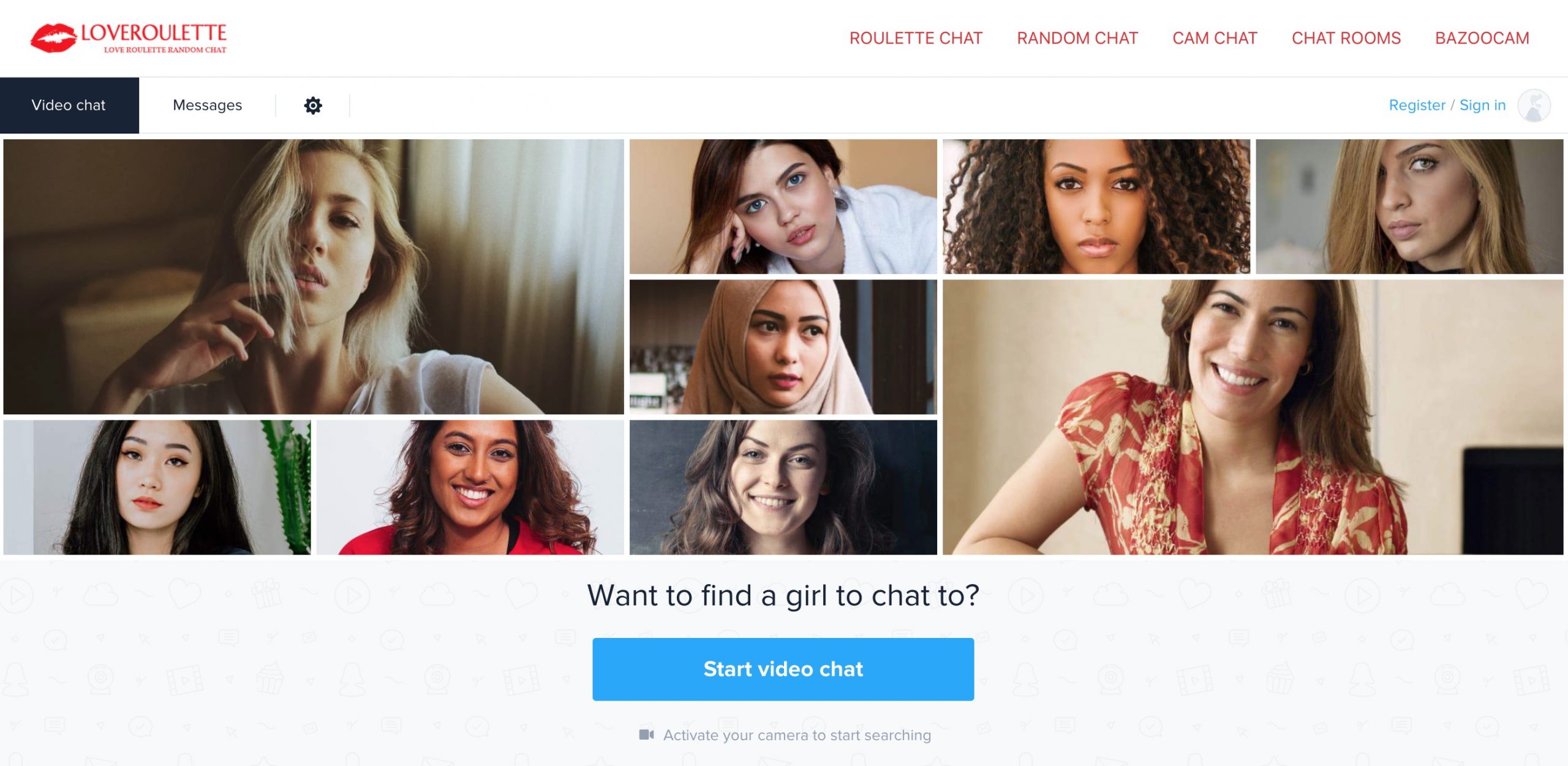 Free vs. Paid Version
In our review, we saw numerous advantages at LoveRoulette.net, starting with the pricing policy. As a reminder, Wematcher, Coomeet, Flirtymania, Realive are available free of charge, with no hidden costs or subscriptions. And if someone asks you a question, "Is LoveRoulette worth paying for?" surprise them by mentioning a free usage with no charges.
The second advantage of free usage is the possibility of entering a platform without creating an account. LoveRoulette reminds us of Chatroulette services, which work on the same basis. Some matchmaking dating sites force users to fill in tons of information before having an opportunity to surf the site. We go through complicated signup processes to find love and relationships without looking at the different options of those services beforehand.
Another impressive point of the LoveRoulette site is its simplicity. There aren't many dating sites that put us in direct contact with someone without going through the account creation, profile editing, publishing photos. In chat rooms, you see a person in front of you who talks to you, dances, or performs something you wish.
Profile Quality
The entire concept is based on the webcam and the random partner selection system. After logging in, you should display a smile on the webcam and start roulette. Members don't waste time filling in profiles, choosing a photo or writing descriptions, etc. They enter nicknames, age and show their faces online.
Users see videos of people living in their area. To make things clear, you move from one person to another. If you are lucky, you find someone you were seeking. If not, click and move forward. And is LoveRoulette any good? Well, men and women from different countries and of various ages connect to the same server. They have the possibility of bumping into each other and connecting through chat and video.
Apart from the traditional webcam dating chat, which is the basis of the site, the LoveRoulette service also offers small games. You shouldn't go and meet a girl in person to make her take off clothes or dance for you. You may play with her, send her tokes and write comments. Some singles come from other sides of the globe to play and share sexual desires.
Entering any chat room opens the doors to new options. It is the truth about LoveRoulette. If you plan to use LoveRoulette without your webcam, it will bring you no advantages. It is a hallmark of the site and its concept. Although it is not mandatory, it lets you participate in the community. You may start roulette and click deny webcam permission if you prefer not to show yourself.
Mobile Application
The site is available via computer and mac and has a mobile version. However, our review on LoveRoulette dating site showed no mobile application, whether on the Google or Apple store. If you want to open the portal everywhere you go, use it via the preferred browser. There are other mobile apps based on the same principles, but none had the name of LoveRoulette.
We have great doubts that members use the LoveRoulette service far from home. They should have a stable internet connection, a webcam, a room where they are alone or with love partners. If someone wants to use the service on the go, imagine how inconvenient it would be.
The last aspect we should mention is the level of security. How legit is the site, and is LoveRoulette safe as a whole? Members get an opportunity to find the desired person without search filters. Various rooms offer webcam dating, free chat, and cam chat. The goal is to create a friendship bond, find an online romantic partner, or a relationship without a future.
With the webcam meeting, take the opportunity to meet exciting interlocutors.
With free chat, messaging is possible.
With the cam chat, interact by turning on your webcam and showing who you are.
The application version of the portal is not necessary since the web camera function would consume more batteries. Hence, it is better to access it via your computer. It is convenient and efficient.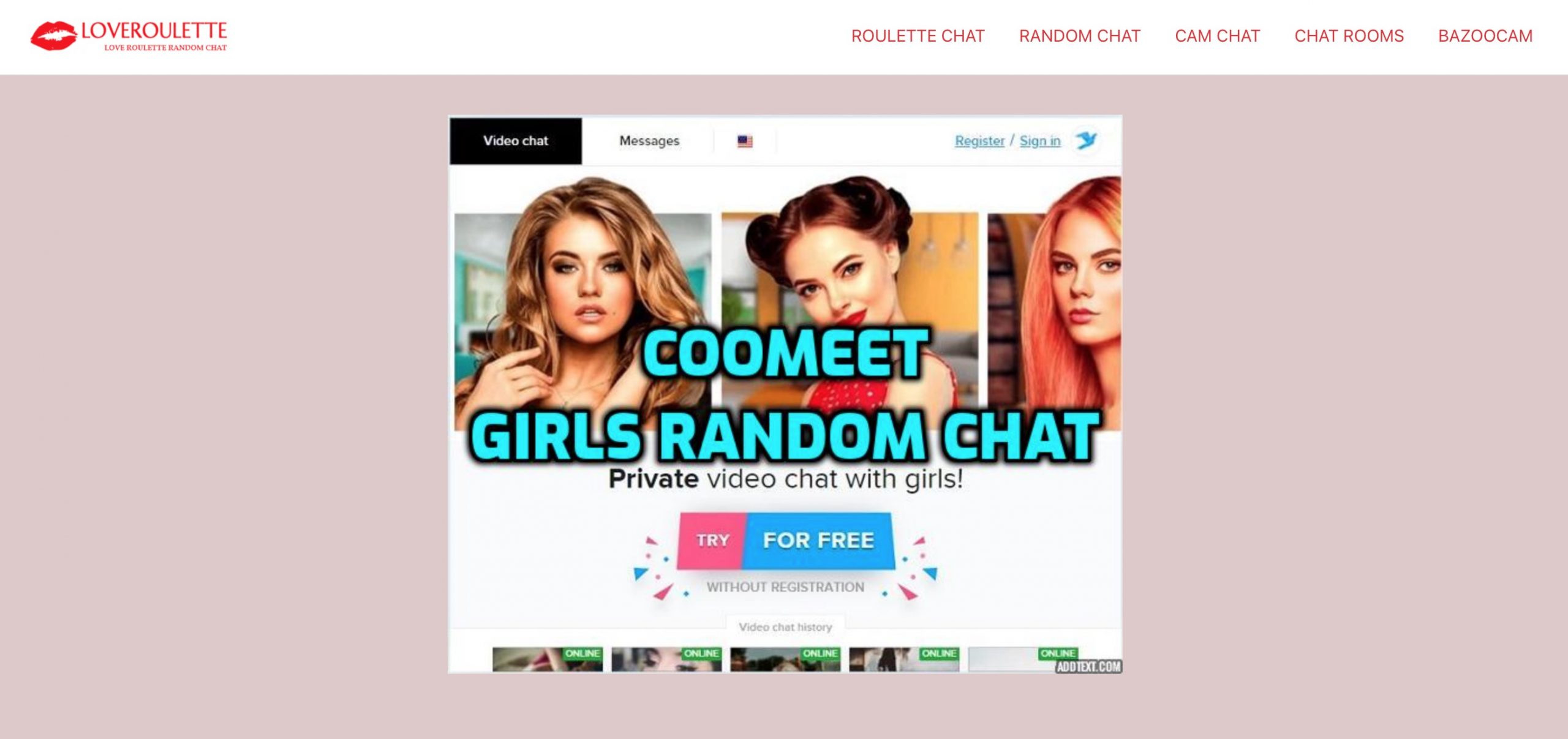 Safety & Security
Both the interface and the concept of the site are simple and sufficient. On the price side, this portal satisfies many users' needs because it is free. And is LoveRoulette a good dating site in its safety?
Nobody sees your email address, your data, real name. The only way you can be "discovered" is when you turn on your camera and start a conversation.
What is vital while reviewing such services is their user-friendliness, operation, and fast loading times. The creators have succeeded in adapting the site to the number of users and constant online activity. A team of moderators checks the site to make sure your usage runs smoothly.
However, as with many sites of the adult webcam type, there are a few tips and precautions to take before using them. Are the chat rooms convenient, and is LoveRoulette worth it? To prove that members stay safe and connect with users who are not scam ones, we want to share some safety tips.
Singles shouldn't create a profile to use the service.
It is also possible not to activate a webcam.
Use the "Next" key until you find desired girlfriends or boyfriends.
Do not hesitate to prepare a first catchy type message in advance. Do not exchange data that is too personal.
If users are parents, they should keep kids away from the screen.
If a profile or user seems suspicious, move forward.
Help & Support
Our LoveRoulette dating website review showed that the portal does not offer to consult a FAQ section. It makes no sense because the concept and functioning are clear without further ado. On the LoveRoulette site, both sexes have a good chance to combine a hot online meeting, finding a company for an evening, or a flirt without any commitment. They don't register and create accounts. No problems should arise with such simplicity.
Q&A
Can I Use It Anonymously?
On the LoveRoulette chat site, users get opportunities to expand their circles of friends, friendly relationships. To access it, no one should register. Thus, members browse through the site, find singles they like, ask to go to a private chat in complete anonymity. Registration is an optional tool and requires a username, password, and email. No one reveals their identities.
Is LoveRoulette Free?
A significant advantage of an online community is the chance to use offered services without payments and subscriptions. Users don't pay for the services, registration, video chatting. A system accepts people without additional costs. However, a user should be over 18 years old to use the site.
Is It Worth It?
At the platform, users discuss everything and nothing at the same time. The purpose is to spend a fun and engaging time together. It is an opportunity to create a first contact with the desired person. And if there is a connection between two people, they may share contacts to stay in touch after meeting on the platform.
How to Use LoveRoulette?
Once on the portal, users start the conversation by choosing a room. Below each video broadcast, members send messages, comments, or communicate. A chat page displays what users have sent tokens or want to lead the process. A possibility of going into a 1-to-1 room makes usage engaging.