Guardian Soulmates Review– The UK's Leading Dating Site
In your youth, everything was easier, and you did not think about finding a partner for a serious relationship. All of your girlfriends were very beautiful but did not consider marriage or family as their values. Today you have changed your outlook on life guidelines and want to meet a beautiful lady who will become your soul mate. It turned out that finding a soul mate is a very difficult process. Because you need a beautiful girl with a great and understanding character.
Read the Guardian Soulmates review to find out how you can meet the love of your life. The company has a wealth of experience, as the service has been operating for over fifteen years. Yes, in 2004, the British corporation Guardian Media Group launched a dating site that began to help users find a partner for a serious and long-term relationship. A distinctive feature of the service is that all profits are reinvested in a program to support free journalism. Many women and men have already convinced themselves that this is not a scam and were able to find true love here. Thanks to this efficiency, the company has gained an excellent reputation (many positive customer reviews and the "Best Dating Site 2014 from UK Awards" are proof), and a large number of users were able to find true love.

Pros/Cons
Of course, there are no perfect companies – you must understand for yourself, is Guardian Soulmates worth paying for or not. Our review provides useful information that you can analyze and make the right choice. This section will discuss the advantages and disadvantages of the matrimonial service.
Pros of the Company
Legit and high-quality service with pleasant functionality and convenient registration process;
The site has many verified and well-detailed profiles;
The company offers users a well-optimized application for iOS and Android mobile devices;
An option to disable ads is available (for premium account owners);
The company has many awards and an excellent reputation (the conclusion is made on the analysis of user reviews);
Good gender proportion;
A good set of tools that make communication as comfortable as possible;
A high-quality match selection program that analyzes a large number of parameters;
Information about other participants is available for viewing free of charge;
High level of security and professional support service.
Cons of the Company
High cost of a monthly subscription;
A small set of free features (messaging is a paid option).
Pricing Plan
Also, you need to learn more about the company's pricing to understand is Guardian Soulmates worth it. In the review, it should be said that the site is British, so the cost is calculated in pounds sterling. Replenishment of the deposit is possible through a credit card Visa, Maestro, and MasterCard or via mobile phone. The transaction will be neutral, which will help maintain anonymity and confidentiality. The monthly subscription price depends on the chosen tariff plan.
1 month – 32.00 GBP;
3 months – 64.00 GBP;
6 months – 96.00 GBP.
Registration Process
It's time to sign up and find out what is GuardianSoulmates.com. Therefore, in this section of the review, we will talk about the registration process. Each adult user can become a client of the service – this option is available around the clock and free of charge. The process takes only a few minutes, and we will give you a convenient guide.
First, go to the official website of Guardian Soulmates. There is a "Signup" button in the upper corner – click it;
The company will now ask you to complete an eight-point questionnaire. It is necessary to fill in at least four points; only then you can proceed to the next step. Indicate your gender and sexual orientation, age, email address, username, password to log into your account, country of residence, and postal code;
Agree to the company rules. In the review, we give advice – read the service documents: "Terms & Conditions" and "Privacy Policy". They contain information about the terms of use of the site and other important nuances;
Check your e-mail – there is a new letter here. Follow the welcome link to become a new customer of the service and gain access to a free set of features.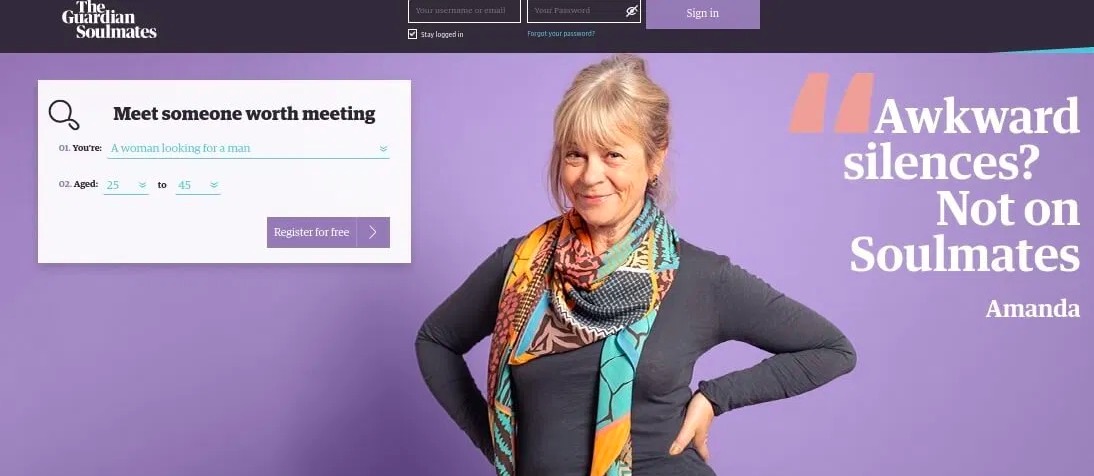 Searching Features
If you are looking for love, then you need to know more about how does Guardian Soulmates work. The main tool that we will discuss in the review is the search program. The algorithm corresponds to modern concepts of quality search and has a large number of different filters. Your task is to customize the program and indicate which traits are important to you in a potential partner. This will make matchmaking more convenient and comfortable. The algorithm can take into account the parameters of appearance (height, age, weight, body type, hair, and eye color), city of residence, zodiac sign, religion, as well as character traits (hobbies, interests and values, the presence of children and bad habits, attitude to serious relationships, etc.). Adjust filters and confirm your choice. Now Guardian Soulmates free search will analyze the available profile database and show you the best matches.
Free vs. Paid Version
As we said in the GuardianSoulmates.com review, the company offers customers a paid and free set of features. Immediately after registration, users can fill out a personal profile, view accounts and photos of charming singles, like, set up, and use the search. Chatting with lovely ladies is a paid feature. Also, after replenishing the deposit, the Guardian Soulmates client allows you to receive unlimited messages and up to ten automatic matches per week. Moreover, convenient filtering of search results, disabling advertising notifications, and other useful options are available. In this review, we recommend that you replenish your deposit because this way, your search for a soul mate will become more efficient and enjoyable.
Profile Quality
We continue to tell the truth about Guardian Soulmates in this review. One of the important features of the service is a huge number of customers. Therefore, your chance of finding the perfect match is high. Also, you can view the profiles of other members for free and get important information from here. Most Guardian Soulmates clients are looking for a serious relationship partner, so the profiles are real and well detailed. What's more, they also read The Guardian, so the level of education is great, and your conversations will be pleasant and interesting.
In the review, we give you advice – complete your profile as much as possible. Add real photos that describe your inner world, tell us about your interests, hobbies, and life values. Let other users know how you imagine the perfect first date and harmonious relationship. Now, other Guardian Soulmates customers can learn more about you and write first. Moreover, completed and detailed accounts have improved search rankings.
Mobile Application
Another important feature of the review that will help you understand is Guardian Soulmates any good or not. The company offers users a mobile application that can be downloaded from Google Play and AppStore. The user can install it on a phone or tablet (iOS and Android) and stay online 24/7. The program is well optimized and works great with all modern devices. Stable operation is ensured even with a weak internet signal. In Guardian Soulmates reviews, clients write that all the functionality of the site is also available when working with the application. Thanks to this feature, you can comfortably communicate with charming women in any place convenient for you.
Safety & Security
An important section of the review because here we will answer the question – is Guardian Soulmates safe. Security is a priority of the company, so the service takes all measures to counter fraudsters. Personal information is encrypted using SSL, which is almost impossible to crack. This means that a fraudster will not gain access to your data and will not learn passwords from your credit card, chat history, etc.
Also, in the review, we will note the professional security service. Company employees monitor the website to work properly, quickly identify suspicious activity and block fake accounts. If you suspect that you are communicating with a scammer, then click the "report" button. A prompt investigation will help reveal the truth.
Help & Support
In this section of the Guardian Soulmates review of the website, we will introduce the support service. The company's employees are always ready to help in case of problems. To contact them, a hotline telephone (020-3353-2000 during business hours) and an e-mail ([email protected] – around the clock) are available. Attach the required documents, and employees will quickly investigate the problem, providing expert assistance. Many positive reviews confirm the effectiveness of the support service. However, you can first study the "FAQ" section – it contains answers to common questions and information that can help the user.
Conclusion
With this review, you have understood is Guardian Soulmates a good dating site. It's time to conclude. The company is legit and provides a high level of protection to users. Also, a large number of customers are registered here, so the chance of finding a soul mate is high. Moreover, the majority of users are intelligent and pleasant people with a rich inner world and a good education. But be prepared to pay – monthly subscriptions are expensive. The final rating of the review is 9.4/10.
Questions & Answers
Is Guardian Soulmates Safe?
Yes, security is one of the top priorities of the matrimonial service. SSL, which is used to encrypt personal data, uses a 256-bit dynamic code. It's almost impossible to hack. Therefore, be sure that a scammer will not gain access to your account.
Is Guardian Soulmates a Real Dating Site?
Yes, this is a real dating site that is owned by the British company Guardian News & Media Limited (mailbox 68164, Kings Place, 90 York Way, London N1P 2AP). The company has a wealth of experience and an excellent reputation (a large number of positive reviews prove this), so you can safely cooperate with matrimonial service.
How Many Members Does Guardian Soulmates Have?
The Guardian Soulmates dating site is very popular. Today, tens of millions of users between the ages of 18 and 55 are registered here. These are mainly residents of the USA, Great Britain, Canada, and Australia. However, there are also participants from the UAE, Singapore, and other countries.
Is Guardian Soulmates Worth it?
Yes, if you prefer efficiency and convenience. The Matrimonial service is very popular and uses modern protection and pairing technologies. Therefore, your path to happiness will be safe and convenient. Read the review on Guardian Soulmates dating site to get the most out of the company.
How to Use Guardian Soulmates?
In this review, we talked about all the features of the company. It remains to go the way to happiness.
Visit the official website and go through the registration procedure;
Get the status of a new client and fill out a personal profile;
Set up search filters and use the program;
See what matches the algorithm will pick up;
Replenish your deposit and start chatting with the girl you like;
Invite her on a date and continue chatting offline.
Is Guardian Soulmates Free?
No, because you will not be able to communicate with other members without replenishment of the deposit. The monthly subscription price depends on the chosen tariff plan. Read the Guardian Soulmates dating website review for more information on the service's pricing.
Can I Use Guardian Soulmates Anonymously?
This question is asked by many potential users in the review. No, the company does not offer this option. The service works for people looking for a partner for a serious relationship. So hiding your face is not a good idea. However, you can specify a minimum of information in the profile – this will help achieve a high level of privacy.
How Can I Delete My Guardian Soulmates Profile?
This opportunity is available to customers at any time. Log in to your account, select the user menu and activate the "delete profile" item. It remains only to confirm the decision and wait a few minutes until all information is removed from the site. Also, you can always hide your profile until better times.
UPD: The Guardian report says that as of now, the platform has ceased to exist.