Exploring Fubar Alternatives: A Comprehensive Guide
Fubar is an atypical dating site that has almost no analogs. The main Fubar alternative sites are Fuckbook, BeNaughty, AdultFriendFinder, etc. On fubar, users play video games, give each other virtual gifts, and also fight for places in the rating. Each action on the site brings points to users and increases their popularity. As you level up, you unlock new features that will allow you to have more fun. It is worth noting that fubar has its own internal currency – fubucks, which can be spent on virtual gifts, raising your favorite members to the top. Every time you earn points for actions on Fubar, you also earn fubucks. In addition to fubucks, there are credits that can be purchased for real money. For credits, you can upgrade your account, thereby standing out from the crowd. In this review, you will find out all the information about sites like Fubar, their advantages, features, prices, and other important information. So keep reading this article, it will be interesting.
What Is Fubar?
Fubar is a popular free dating site used by thousands of users every day. Unlike other sites similar to Fubar, there are additional features and updates here such as Blasts, VIP status, Happy Hours, Fu Marriage, Auto 11s, Bling, Cherry Bombs, Boomerangs, Extra 11s, and Sticky Bulletins that you can purchase using all popular e-wallets and credit cards. This site has the function of creating photo albums with varying degrees of privacy. Also, the platform is absolutely loyal to NSFW (Not Safe For Work) photos with the most vulgar and perverse content.
The site has a very unusual and cool design, with many sections. You can play games with other users, treat your favorite girlfriends to virtual beer, and also increase their ratings. It is also worth noting that, unlike other fubar free alternatives, there is a rating that grows with a time of stay and other activities. Especially the rating grows after spending tokens on Bling. Bling is a unique gift that you can give to other members using your coins.
The jewelry store is constantly changing and includes rare gifts that can give you bonuses when you try to level up. After spending 1 credit, the user gets as much as 100,000 points to the rating, which significantly boosts his account. If you want to attract a large number of users to your page, you can activate the special ability "Power Up".
Sites Like Fubar
There are several best alternatives to Fubar that also have large membership bases, are popular in many countries, and have years of successful adult dating experience. So here is a list of sites better than Fubar.
Fuckbook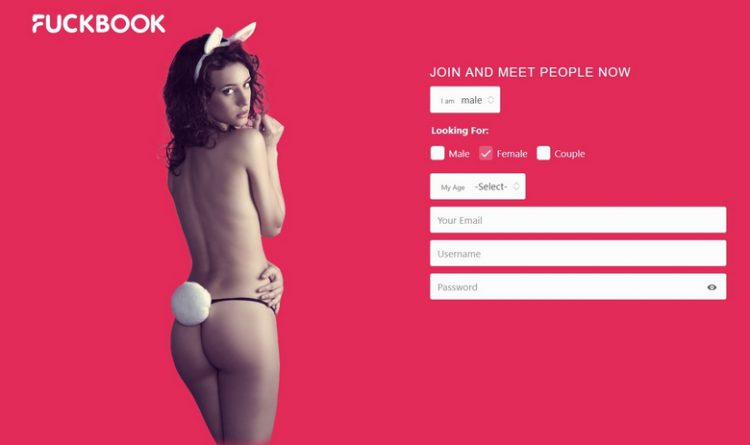 Pros:
Huge userbase;
Safety and privacy;
Free account option.
Cons:
The hookup app is known to be glitchy.
Prices
1 Month – 29.95 $/ Month(29.95 $total)
3 Months – 14.95 $/ Month(44.85 $total)
Fuckbook is one of the best, partly free alternative to Fubar. The site has a clear and user-friendly interface. Registration is made through a profile in social networks, Google account, or via email. After that, you need to designate your main parameters that determine your character, hobbies, occupation. Leave a request in which you inform the purpose of your acquaintance: a trip to a bar, a romantic date, or something else.
The feature of the service is that you can add tags to your profile to quickly find your soul mate. If someone is interested in you and your hobbies, then you are immediately offered a date. One but – you need to inform in advance the place and idea of ​​the proposed meeting. If you have no ideas of ideas, then Fuckbook offers help in the appropriate section, "Dating", where it will offer thematic ones.
BeNaughty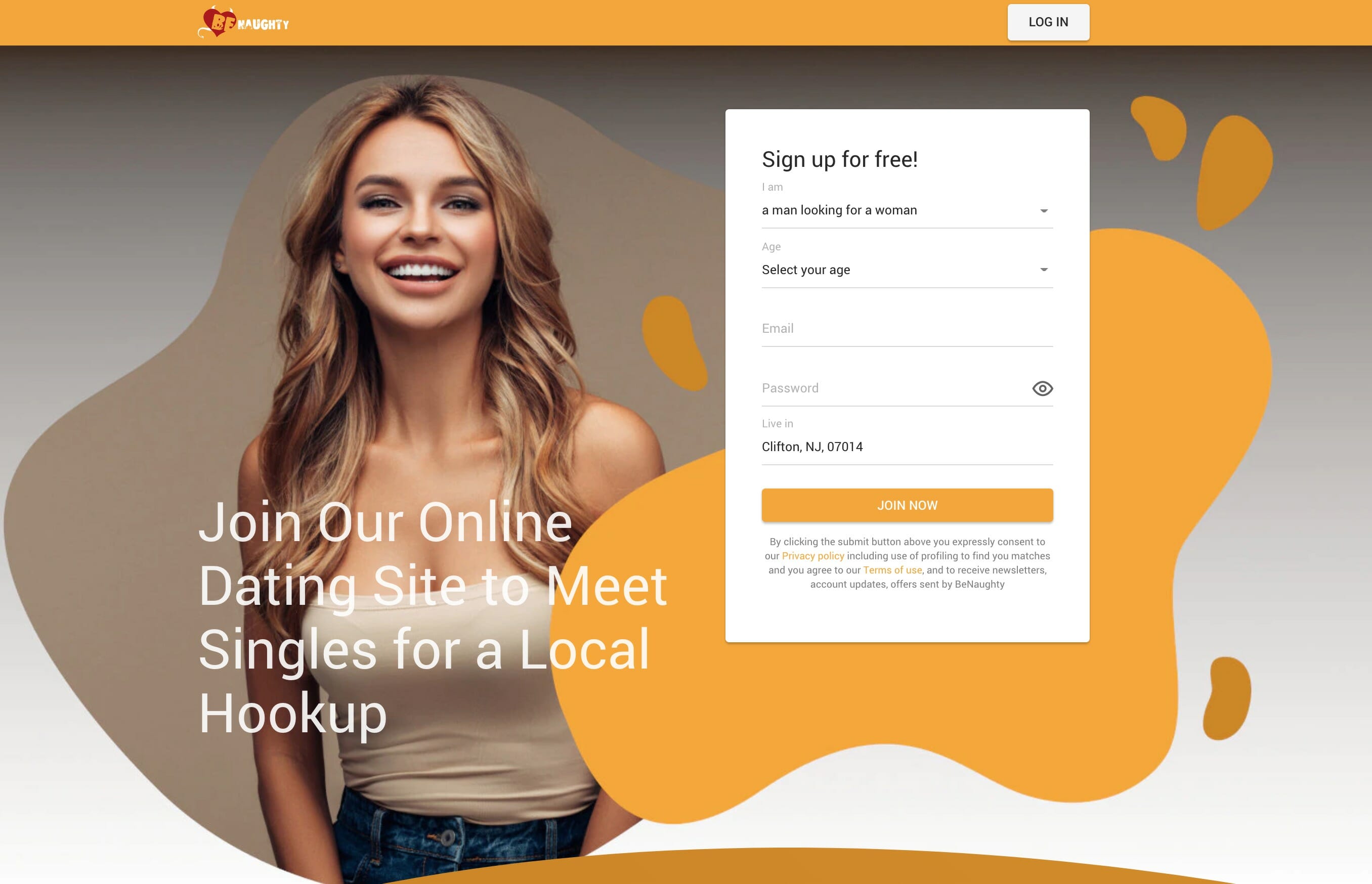 Pros:
Discount system;
Modern and attractive interface;
Thousands of Passport Verified members;
Well organized category directory;
VIP benefits;
Mobile app.
Cons:
The response of the support service may take up to 24 hours.
Prices
Full Membership for Men
1 Day – 0.99 $/ Day(0.99 $total)
1 Week – 1.00 $/ Week(1.00 $total)
1 Month – 28.80 $/ Month(28.80 $total)
3 Months – 16.20 $/ Month(48.60 $total)
Premium Dater Extra Benefits for Women
1 Month – 26.49 $/ Month (26.49 $total)
Extra Security Extra Benefits for Women
1 Month – 12.60 $/ Month (12.60 $total)
Chataholic Extra Benefits for Women
1 Month – 17.92 $/ Month (17.92 $total)
BeNaughty is another of the Fubar type sites that includes an innovative facial recognition feature. A profile can only be created if the photo has a person's face. For users to post their own selfies, an innovative facial recognition algorithm is applied.
This Fubar alternative does not ask for personal information on social networks, phone numbers,s or emails, which allows you to maintain maximum privacy when communicating. Thirdly, a joint chat for users is created after the first like (no need to wait for a mutual one). This allows everyone to express themselves in a conversation and interest a potential partner. And importantly, the application does not store data on the phone, which excludes the leakage of private information as a result of hacking.
AdultFriendFinder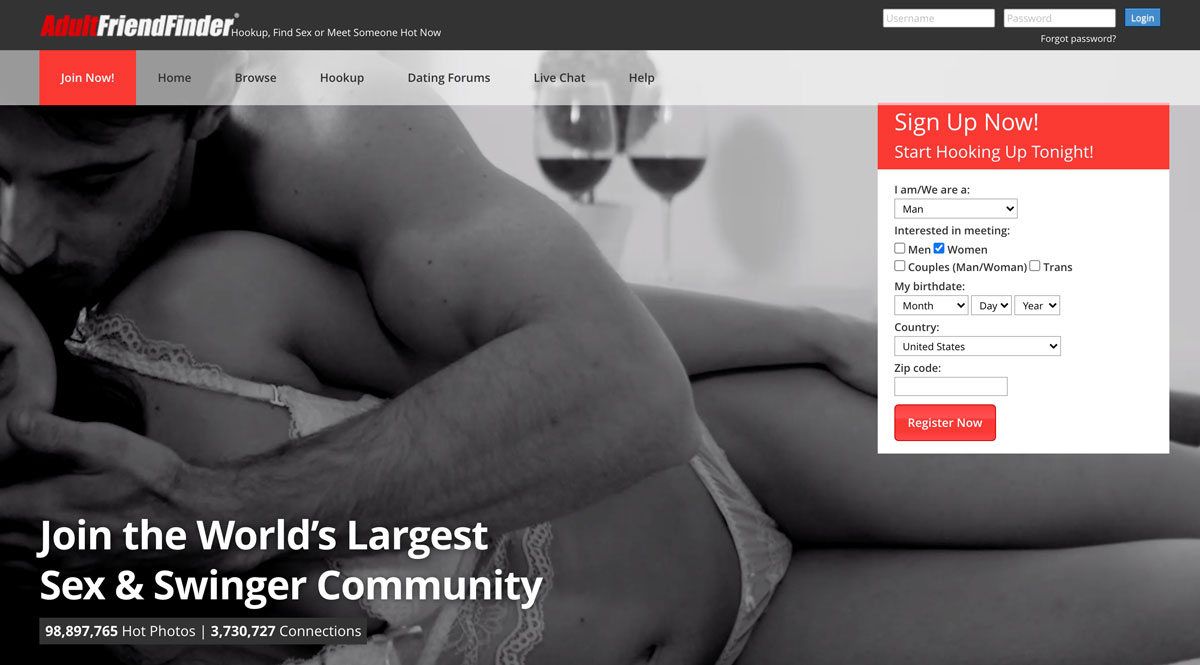 Pros:
Selected users;
Mobile app;
Many advanced features;
Easy to use;
huge database.
Cons:
Prices
1 Month – 39.95 $/ Month (39.95 $total);
3 Months – 26.95 $/ Month (80.85 $total);
12 Months – 19.95 $/ Month (239.40 $total).
AdultFriendFinder is one of the best alternative to Fubar. This legit service provides an opportunity to meet people who are looking for one-day hookups. With a multi-million user base, you can easily find partners in no time. Registration is free, just like on Fubar. It is also worth noting that this great platform has an excellent mobile app, which is available for both iOS and Android. In addition, AdultFriendFinder collects location data of members and builds a map of favorite places based on this. After collecting this information, the service asks if users want to add locations that they regularly visit the list of "my places" in their profile.
With this list, you will be able to view people who are nearby and who often visit the same place as you. The main task of AdultFriendFinder is to find people with mutual interests. This Fubar alternative service focuses on dating, but it's also pretty damn effective at making new friends. Look for a worthy analog of Fubar, then AFF is worth your attention.
Bumble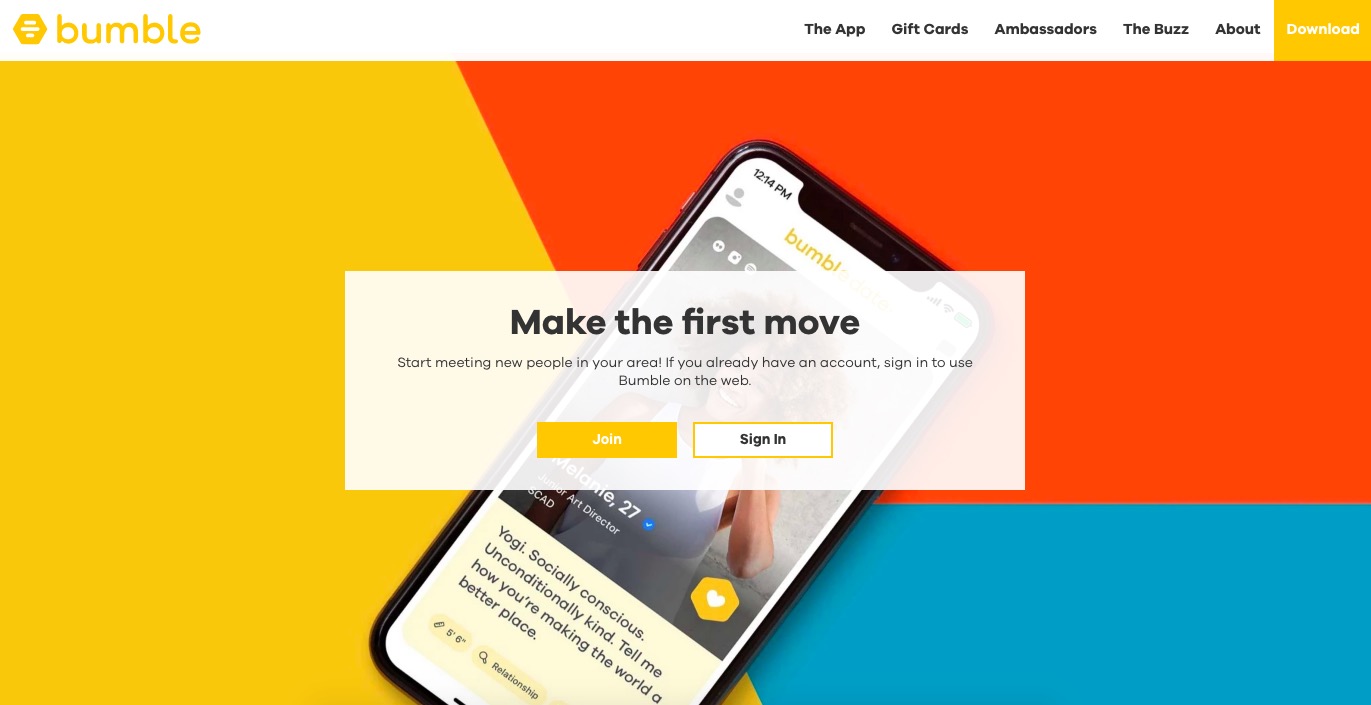 Pros:
Free messaging for singles;
Easy registration;
Chatroom feature.
Cons:
Prices
Bumble Boost Subscription
1 Week – 10.99 $/ Week;
1 Month – 24.99 $/ Month.
Lifetime Subscription
Bumble Credits
1 Coin – 1.99 $/ Coin(1.99 $total);
5 Coins – 1.80 $/ Coin(8.99 $total);
10 Coins – 1.50 $/ Coin(14.99 $total);
20 Coins – 1.25 $/ Coin(24.99 $total);
30 Coins – 1.27 $/ Coin(37.99 $total).
Bumble is one of the most popular not scam dating sites like Fubar. The app was developed by a female former Tinder employee. She left the company to end gender differences in online dating. The main difference from other Fubar competitors is that only a woman can start a conversation with a partner. If you show mutual sympathy, then she has 24 hours to start a conversation, if the time is up, then the game is over. Both users get the option to extend their waiting time by 24 hours, but only once a day.
In the Application, you can indicate your hobbies and sexual preferences in order to quickly find like-minded people. There is also an excellent opportunity to set filters by the age of the partner you are interested in and the search radius. The program automatically collects information about your hobbies through Facebook, so the more artists you follow on the social network, the easier it will be for the application to find interesting partners for you. If you are a strong and determined woman and prefer to be the first to start communicating with handsome men, then Bumble is an excellent choice.
Badoo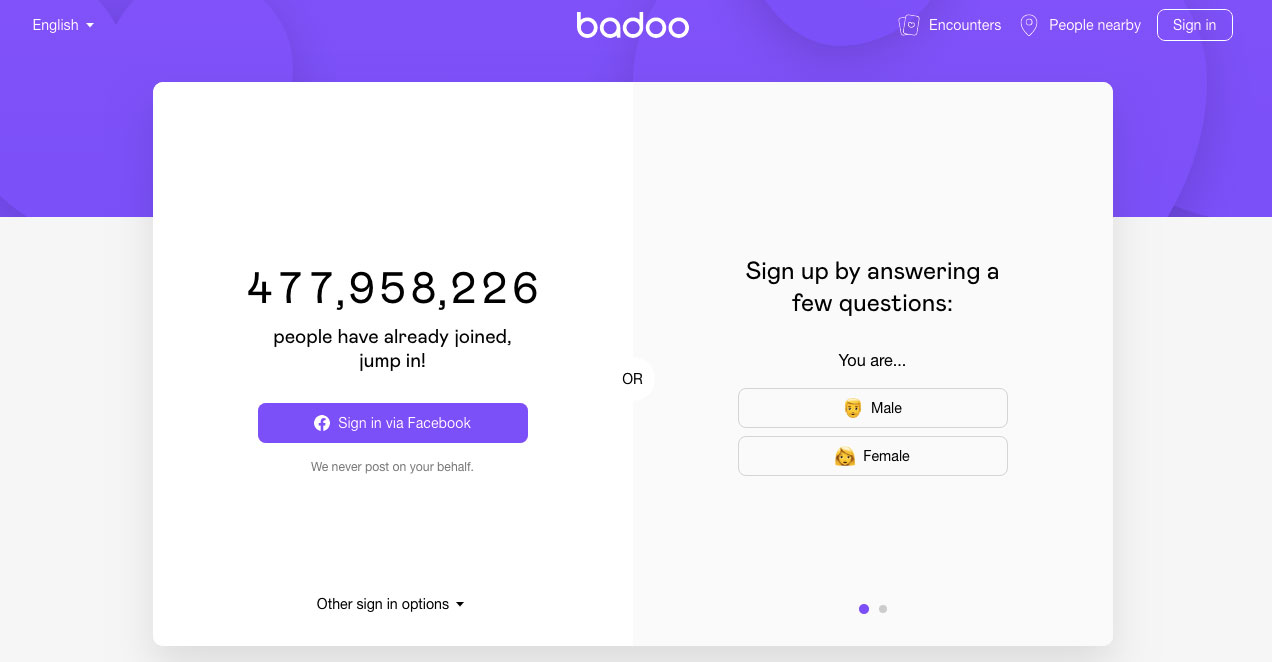 Pros:
Free and fast registration;
Multimillion database;
Excellent reputation;
Mobile app;
Many years of experience;
High-end services.
Cons:
Prices
1 Month – 12.99 $/ Month (12.99 $total);
3 Months – 10.66 $/ Month (31.99 $total);
6 Months – 8.00 $/ Month (47.99 $total);
1 Lifetime – 79.99 $/ Lifetime (79.99 $total).
Badoo is one of the most popular mobile dating apps in the world. In addition to the Fubar options, it has additional tools for communication and the popularization of your own profile. In addition to scrolling through the profiles of people you like, you can see if they are verified in other social networks or if the user's phone number is verified. In general, the interaction mechanics are very similar to Fubar.
This Fubar analog has the ability to conduct streams, paid promotion of your profile, and view non-reciprocal preferences (from $ 6-9). There are also internal tokens that can be exchanged for profile promotion. Here you can also find "lookalikes" – users of your gender who are similar to you or users of the opposite sex who are similar to the ones you like. Registration and basic version are free, there is also an option to upgrade to Premium. If you are looking for a multi-million community with an excellent reputation that operates in over 190 countries, then Badoo is worth it.
Conclusion
In conclusion of this review, it is worth noting that all the analogs presented by Fubar help meet ladies to create different types of relationships, from one-night stands to finding love here. To start using any site, you just need to go through quick and free signup.