Collarspace Review – Find the Right Dating App for You
Short Review
The Collarspace dating site has long been considered the meeting point for people with varied fetishes and inclinations. It does not matter whether you want to get a taste of BDSM or bondage or whether you are still unsure about your sexual preferences. How well is Collarspace.com in seeking a fetish partner? Are there any great options? We have gathered all the information in our Collarspace review.
Pros/Cons
Pros
Diverse search criteria
Portal for lovers of all BDSM practices
Free registration and usage
Thematic events
Unlimited messaging and chatting
Cons
Outdated, simple design
Many profiles with financial interests
Low response rate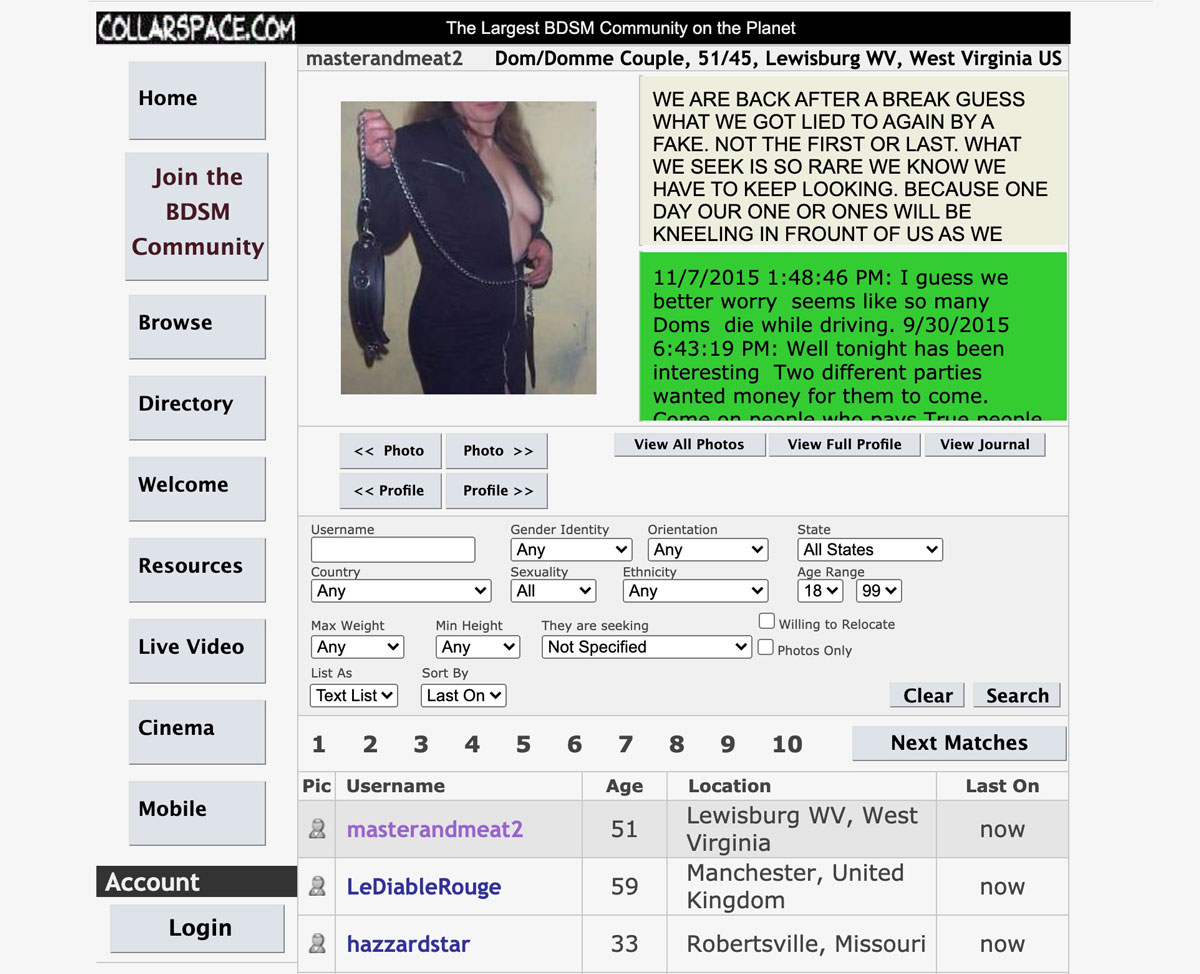 Pricing Plan
What can you expect at the Collarspace BDSM dating site? On such a platform, you will meet lots of freedom-loving people who want to enjoy their fetishes. Some criteria distinguish the service and help determine the answer to the question of what is Collarspace.com.
As already written in the pros section of our Collarspace.com review, the site has no costs and any subscription plans. Here it's all about the free membership, which you get after the non-binding registration. You get a chance to create a personalized profile, which you may fill out in detail.
Anyone familiar with BDSM dating platforms on the Internet knows how hard it is to find free services. On most sites, users purchase subscriptions or buy a premium membership to send messages. On the Collarspace portal, on the contrary, you have unlimited free options. Members get the opportunity to write messages, use chatrooms, watch sex videos, look through nude photos. Some other functions if you have registered free of charge include:
Create an account and detailed profile
Use the search function
Viewing profiles and pictures of other members
Receive and read messages
Write and send messages
Add profiles to the "Favorite" list
Watch online streams and uploaded videos
First, it is a great advantage to examine whether the site is one of the legit and not scam platforms. You shouldn't pay and spend money.
Registration Process
Joining the Collarspace BDSM community allows you to experience moments of great pleasure and pure socialization. After you enter the platform, you can look through the registered members' photos and profiles. Members post photos, videos, write texts about what they seek and love. Newcomers explore the possibilities of the site without signup and subscription costs.
Getting access to communication tools, including chatting, sending messages and emails, is possible after creating an account. Click on the button called "Join the BDSM community" and go to the online signup form. It does not take much time and lets you discover the truth about Collarspace.
The process runs straightforward. Indicate your gender and the gender of the desired singles. Your birthday, country, and zip code help members reveal your age and place of residence. These general details are necessary signup steps on any dating site.
The next steps are exciting and engaging. They concentrate more on your personality and sexual desires. When you specify the sexual location, choose between straight, gay/lesbian, bi-sexual, or bi-curious. Body type and race give an idea of appearance features and physique.
A "Marital status" option is useful when seeking single girlfriends, married singles, or mature divorced women. And one of the essential criteria of BDSM lovers is a role. Indicate if you prefer to have a dominant, submissive, or switch position. After this step, users should wait until they get a confirmation email of successful registration.
Searching Features
Once registered on the Collarspace website, you may look through various profiles online and browse the photo galleries the users publish every day. Many services offer a matchmaking feature to help you find desired ladies and meet users looking for love. On the Collarspace site, there aren't any questionnaires, personality tests, and tools to find matches. Let's find out the answer to the question is Collarspace any good.
Many users connect to the platform to find profiles of those singles interested in BDSM meetings without any commitment and obligation. Its focus is not relationships, love, or dating. Many members of the BDSM community get in touch with each other, exchange pictures, and share erotic fantasies.
Some enjoy arranging live meetings to experience extreme sexual relationships. Sex, passion, new experiences, adventures are critical elements of the platform. If you want to date a beautiful girl and build romantic relationships, you'd better use another site.
To better understand how Collarspace works, we should focus on the options it has. The search tool is what simplifies your usage and gets you closer to those who meet your fantasies. Filters are numerous and take into account important factors when seeking a BDSM partner. Narrow down the profiles you see by using the following options:
Country
State
Age range
Gender identity
Ethnicity
Orientation
Sexuality
Hight
Partner preferences
Willing to relocate
The Collarspace free search by username, last visit, and photo availability is also possible. What we found interesting during our review is the diversity of "They are seeking" options. Around 15 categories of roles, including:
Dominant transgender
Submissive transgender
Switch male/female
Domme/Dom couples
A poly household
No wonder you get a great chance to narrow down the search results to what your inner voice whispers. You also have a right to clear the filters and look through profiles of all members present. In our Collarspace review of website, the search tool was one of the few features that work on an acceptable level.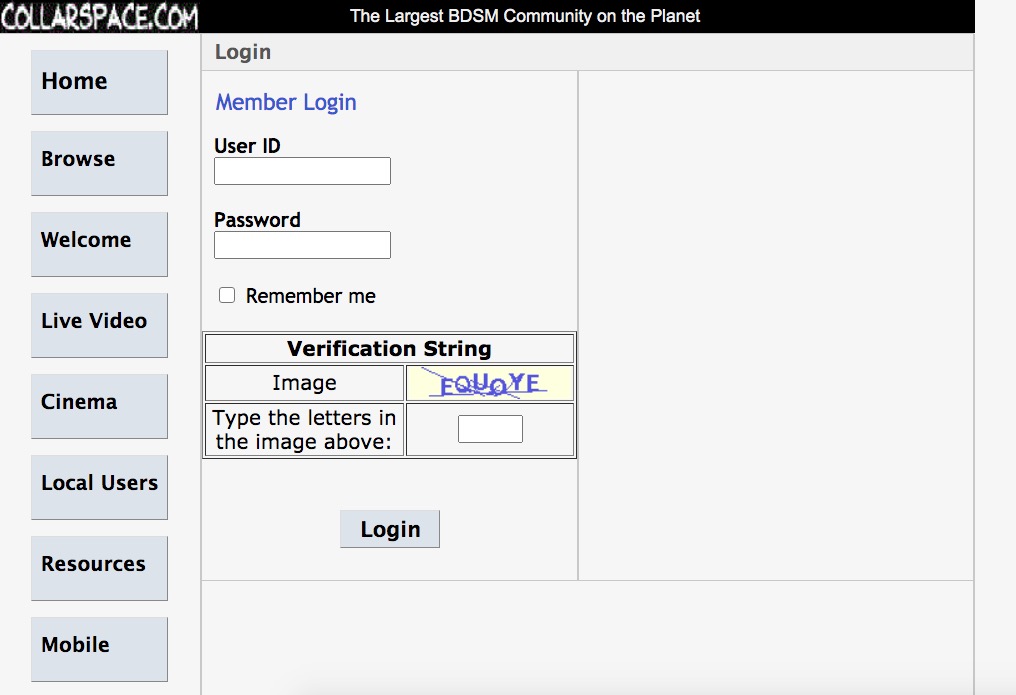 Free vs. Paid Version
Making any comments on the free or paid version has no sense. The Collarspace site takes at users' disposal completely free usage. No costs, no paid offers. If it's a plus or minus, decide yourself. What we have experienced in our Collarspace dating website review leaves much to be desired.
When looking closer at what you get, the range of features is limited. What else can you expect with free registration, search, and messaging? Outdated design, lack of functionalities, empty chatrooms are disappointing. Also, you should wait for ages until you get a response regarding your registration. After filling out a signup form, you don't get access to the messaging service and other tools. It may take some days or weeks until you get a confirmation.
Many members would enjoy the opportunity of getting a modern app. The service, however, doesn't have one now. It limits the options members have and makes it impossible to chat on the go. The site's team should create an innovative app with a paid subscription to attract more customers. No doubt, the answer to the question "Is Collarspace worth paying for?" would be positive in that case.
Profile Quality
Our review on Collarspace dating site represents the free online dating community. Here you meet all lovers of BDSM, extreme sex, or those who love to have fun and play. If you are a submissive, dominant, or switch, the Collarspace platform is where users want to meet a like-minded person.
Is it easy to find someone, and how does Collarspace work to connect people? You scroll through different photos, videos, and profiles within the site, seeking the user with desired characteristics and sexual tastes. The search tool offered by the portal is free and accessible even without completing the registration. Users also get access to profile information and photos.
Your profile on the Collarspace site is how you get chances of having sex dates with other spanking contacts. It is your business card and lets other members discover facts about your wishes and likes. Members look at your profile and your profile photo to "get to know" you – the same works for your search.
You get a partner proposal on the main page. If you don't like it, click on "Next Matches." You will see another contact suggestion. When someone has caught your attention, click on "View Full Profile" and get an idea of who he/she is.
Various BDSM dating sites don't offer do not such a leeway compared to the Collarspace service. Users upload as candid photos as they want. Many people devote their time to filling out a profile, indicating their preferences in a partner, his/her gender, and orientation. Also, to make the profile more engaging and add a piece of themselves, enthusiastic singles write large "welcome texts." There they tell about themselves, share fascinating stories or describe their intimate wishes.
Which features are worth your attention? Favorites and Friends help keep track of who enjoy chatting with you, plan to have sex or try some BDSM practices. "Friends" shows people who have accepted your request on public sharing of your friendship. "Favorites" is a list of potential mates or those who drive you crazy. It's a tool that helps to collect the desired profiles.
Mobile Application
As we have already said in the review, the site hasn't created its app yet. It is a significant disadvantage, as it reduces audience engagement. No doubt, the site would have a larger audience create a whole society where there is no discrimination. It would be a great feature of the site.
Many are ashamed of their inner desires and fetishes. But Collarspace is a place where people understand they are not alone. So, what do you think, is Collarspace worth it? The answer is simple: it has great potential and a big room for improvement.
Safety & Security
Both newbies and faithful lovers of BDSM find it easy to enter different portals dedicated to meetings and new sexual experiences. However, one of the criteria users consider while choosing a platform is its safety and security measures. How legit is the Collarspace service, and is Collarspace safe?
Whatever we write here, the truth remains obvious: it isn't necessary to register to access all users' profiles. What you publish and tell about yourself on the site becomes available to everyone.
Free site structure is a natural reason why many spammers and scammers lead their activities here. Their profiles are empty, with no photos or personal information. It is essential to consider that the Collarspace site is free. You shouldn't pay money to access it. Pay attention to how you communicate with new people. Be vigilant and keep your contact details secret.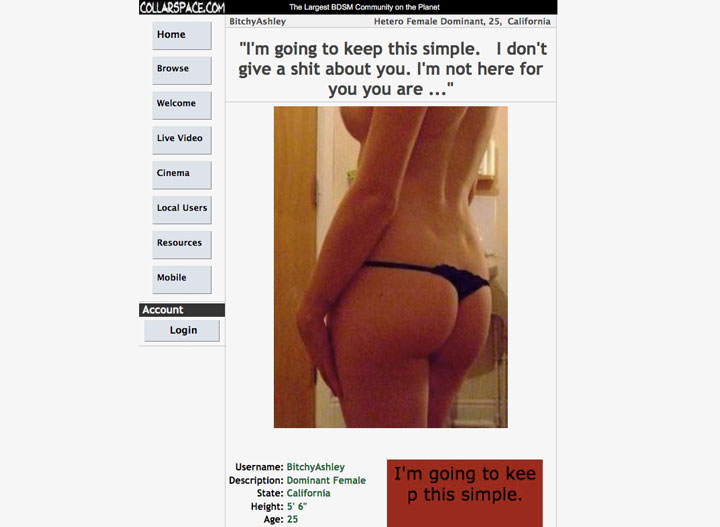 Help & Support
Some Collarspace reviews wrote about irresponsible customer support. The site has a section with frequently asked questions to find answers to tricky questions. The site openly says that due to numerous spammers, complaints about them, the response time to your question can last several days. Besides, in the same section, you find information that it will take longer to wait for account confirmation than on other sites.
Is a support team helpful, and is Collarspace a good dating site? Some issues may get precise answers from customer service. Others will get no answers at all. Whether you start using this service depends on your preferences: a good service or no subscription, stylish design, or a minimum of functions.
Q&A
How to Use Collarspace?
The site is the portal specialized in attracting a large community of enthusiasts who adore everything related to the world of BDSM. The site has a simple layout, and the main features include: look through profiles, send a message, chat, view the full profile. There are no costs, and you won't pay for any services.
Is Collarspace Free?
Yes, the service is open to everyone on a free basis. You won't purchase any subscriptions or memberships to get a chance to chat with other members. The thing you should do is to sign up and wait until your account gets confirmation. Search tools, messaging, and chatting don't require any costs.
How Can I Delete My Profile?
The option of deleting an account is straightforward and free. To "close" your account on the site, go to your profile settings and click on "close account." It will make your account inactive and deleted. Users will no longer have a chance to write you a message or send an email.