EasternHoneys Review: The Fullest Analysis, All Pros and Cons
In the modern world, people often cannot find a partner for romantic relationships or even communication, and online dating sites have greatly expanded their possibilities. EasternHoneys is one of the dating platforms that offer people to find partners in Asian countries. Is EasternHoneys any good? In this EasternHoneys review, we will tell you everything you need to know.
Short Review
Although the percentage of men far exceeds the female profiles on this website, the success of many couples created with the help of the Eastern Honeys dating site and the dominance of positive EasternHoneys reviews seem very promising and convincing for singles. Is an Asian girl your dream? This site may help you!
As we know, most dating platforms have very overloaded websites full of ads, but this has nothing to do with Eastern Honeys. This dating platform is simple and well structured, offering users not to waste time and immediately find the right person. The user base is good; profiles are detailed enough. What else can one dream about? Check everything in more detail in our EasternHoneys dating website review.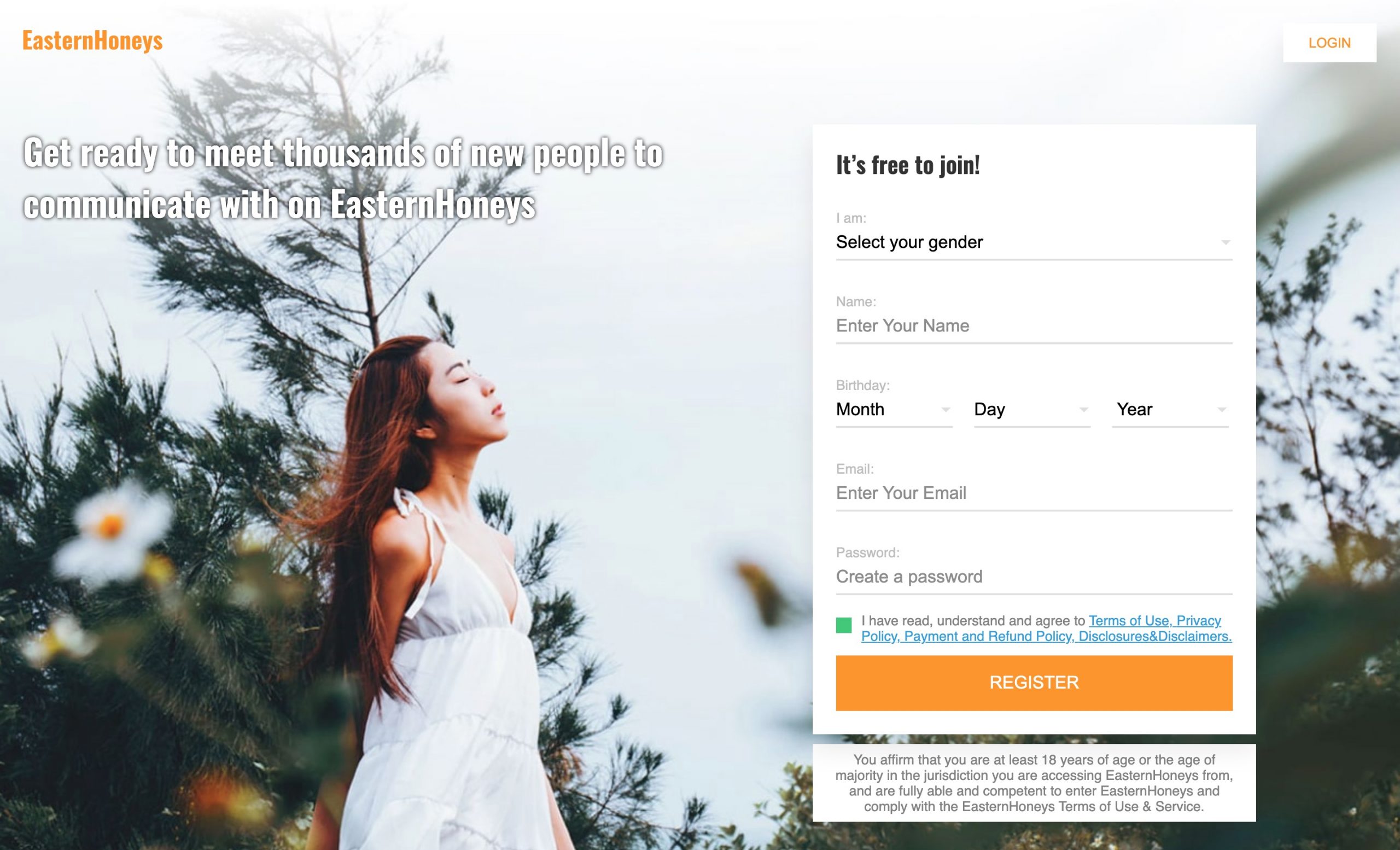 Pros/Cons
Nothing is perfect, and it applies to the dating sites industry as well. EasternHoneys boasts both benefits and drawbacks. Is EasternHoneys worth paying for? Take a look at the pros and cons before you register to avoid unpleasant surprises.
Pros
Free registration and the first 20 free credits.
New members join the dating platform every day
Informative profiles.
Cons
Most services are paid to use.
Lack of mobile app.
The Process of Registration
How does EasternHoneys work? To start your experience, you need to register first. Simply open the website to find a quick application form to fill out. However, you should be ready to spend 8 to 10 minutes for the entire process, as there are four steps to complete. The first step is traditional because you must enter who you are looking for, name and date of birth, email address, and password.
Other steps are to fill in details about yourself such as your interests, habits, religion, marital status, and many others, uploading a photo or several, as well as filling in details about someone you want to get to know.
If you do not want to share certain information, you can ignore specific questions. Another important message you will see in a pop-up window is an email verification offer that you can accept or refuse.

Main Features
The truth about EasternHoneys is that its main features are really good. Visitors and members of the site enjoy a gift delivery, detailed profile descriptions, intensive search, and enhanced matchmaking systems. The site's catalog of features helps members experience their love hunt in the best way. EasternHoneys' special features are:
ID verification. This amazing option helps newcomers who register on the site to inform other users that they're 100% real. Members apply for verification and send some documents to the administration.
Arrangement of a real date. This feature is essential when you're ready to take your communication with a woman to the next level. It works like this: you purchase this service and buy plane tickets to see your girl. The site does for you the rest of the job.
Presents delivery. This service is a result of the site's partnership with many delivery companies around Eastern countries. This way, you can choose a gift on the website, purchase it online, and choose the recipient. The administration does all the best to deliver it to the doorstep of your beloved.
Winks. It is a nice little feature that helps you inform other users that you like them without any word. When you get a wink in return, it's a sign that a lady is interested in interaction with you.
Face Feature. Check random members out by looking through their photos. Depending on whether you like them, press "Like/Skip ".
Searching Features
What we can say about EasternHoneys free search? The site's love-seekers may apply basic and extended search facilities. The dating platform provides a set of filters to specify search criteria according to the next points:
Location (state and city).
Family Status.
Children.
Faith.
Education level.
Bad habits (drinking and smoking).
Age.
Free vs Paid Version
Eastern Honeys is a dating platform on which you must be willing to invest funds to communicate with other people over a long distance. Here are some of the features you can utilize free of charge.
Joining.
Account creating.
Getting 20 first free credits.
Browsing ladies' profiles.
Editing your account data.
Using client support.

This dating site has a credit system where users have to spend credits every time they use a feature (speaking about paid membership). The first set of 20 credits is offered to users for free at registration, but once you spend them, getting new credits in real money is necessary. The prices are the following:
$19.99—50 credits;
$44.99—125 credits;
$69.99—250 credits;
$149.99—750 credits.
As you can see, the prices are reasonable. These credits can be spent on viewing all photos, including private photos, sending messages, and seeing who viewed your profile and who is interested in you. Additional services such as flowers and gifts can also be ordered as well.
Profile Quality
Once you have registered your account on the website and decided to browse through the profiles of girls, you will see their simplified versions with a photo, a name, and age. However, if you want to know more about them, you can click on their profiles and see several sections, including: About Me, About My Date, My Photos, and My Private Photos section (hidden in the eyes of others). There is a very interesting section in the profile description: Why I joined Eastern Honeys, and it will explain why this or that person joined the website.
Each registered user can view other profiles and photos as well as edit a profile at any time.
Mobile Application
We couldn't but mention a mobile app in our EasternHoneys.com review. Every user who joins the platform can be sure to easily access the platform from a mobile device. Even the fact that the application is missing does not make this process more difficult: it is possible to do so in any browser and enjoy the mobile website version.
Security
Is EasternHoneys safe? According to EasternHoneys review of the website, the security system includes procedures that should prevent your card information from leaking, a no-tolerance policy for scammers and fraudsters (support team constantly investigates every complaint), and various articles on how to avoid getting scammed. Eastern Honeys is positioned as a safe dating platform with enhanced safety measures. However, you should be attentive when sharing your financial and personal details with users you meet online.
Customer Support
Users on the website can solve any problems by reading a detailed FAQ section or by contacting a customer support representative by email operating 24/7.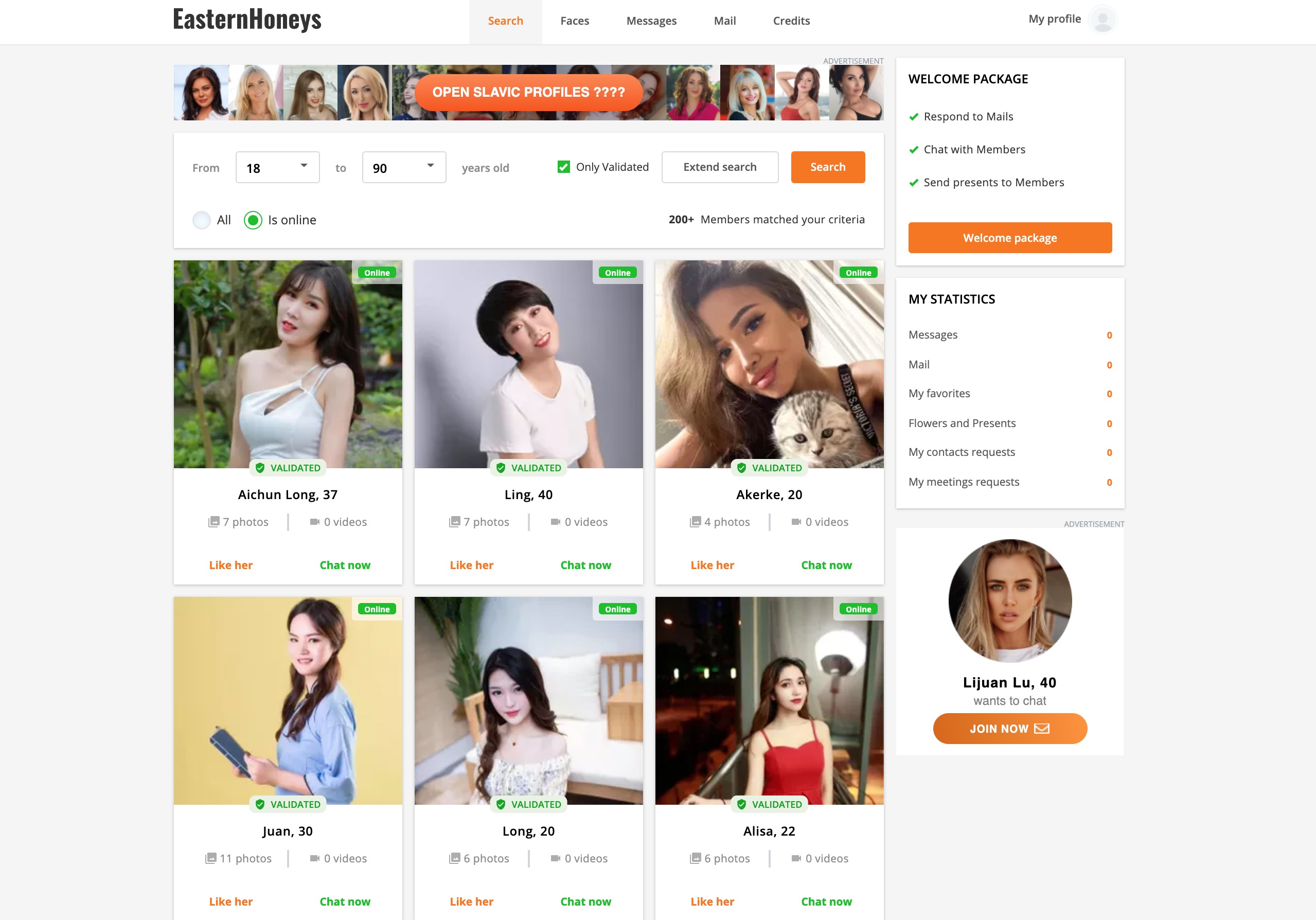 Alternative Services
Understandably, EasternHoneys is not the only option you can use. Here are several other platforms for Asian dating that are worth your attention.
AsianDating.com
AsianDating is an Asian dating site with millions of members. To be able to take advantage of the various features offered on the site, you will have to register via the registration form and follow the instructions presented there. You can also log in via your Facebook profile, which is an additional plus.
ThaiLoveLinks
ThaiLoveLinks is the number 1 site for Thai dating with single men and women from Thailand that is frequently used by those interested in Asian dating. Post your ad and receive messages from other members. You also can chat with several profiles before choosing the one that suits you best.
RencontreAsie.com
It is another way to meet a beautiful woman from an Asian country. Easy registration, lots of photos – you will definitely like it. Simply fill out the form and provide the requested information. You can then chat with any members. A dedicated team reviews profiles to avoid fake profiles.
Conclusion
Hopefully, our review on the EasternHoneys dating site was helpful for you. Is EasternHoneys worth it? We can say for sure it is. We recommend you check several reviews before registration to be on the safe side when choosing the site. Good luck!
Q&A
Is EasternHoneys Safe?
In terms of security, the Eastern Honeys website is a platform that protects not only personal but also financial data and uses additional security measures. Nowadays, not all dating platforms do so. So, this site is a nice option for those looking for love in terms of safety.
Is EasternHoneys Free?
People often dream about a fully free site when looking for a dating platform. It's wrong, as high-quality service requires payment. If your intentions to find your true love are serious, don't be stingy to spend another dollar or two on additional services or premium membership. It will pay off, that's for sure.
Is EasternHoneys Worth It?
What is EasternHoneys.com? Given the impressive amount of features this platform provides, we can say that this site is definitely worth it. Detailed profiles, nice security, decent customer support make this site a nice choice. If you want to increase the possibility of finding a partner, we recommend you consider premium membership.
How to Use EasternHoneys?
The procedure of using modern dating sites is pretty similar: you find the platform you need based on reviews, then register, provide your personal data, upload several quality photos, and voila – you can proceed to browsing the site and choosing among potential candidates.